Podcast: Anatomy Of An Assassination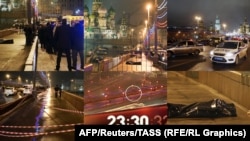 We've had a week to digest the shocking assassination of opposition figure Boris Nemtsov, and opinions are hardening about who was behind it and why.
And the way various Kremlin-watchers have interpreted it says a lot about how each views Russia.
Those who see an emerging dictatorship led by a ruthless tyrant tend to see this as a hit ordered by Vladimir Putin's regime. And those who see a fragile, tottering, and fragmented autocracy tend to suspect rogue elements in the security services or nationalists.
But few doubt that such a brazen hit on such a high-profile opposition figure clearly represents a major turning point in Russian politics.
On the latest Power Vertical Podcast, we try to unpack all this.
Joining me is co-host Mark Galeotti, a professor at NYU, an expert on Russia's security services, and author of the blog In Moscow's Shadows; and Sean Guillory of the University of Pittsburgh's Center for Russian and Eastern European Studies, author of Sean's Russia blog, and host of the newly launched SRB Podcast.
Enjoy...
Listen to or download the podcast above or subscribe to "The Power Vertical Podcast" on iTunes.​
About This Blog
The Power Vertical is a blog written especially for Russia wonks and obsessive Kremlin watchers by Brian Whitmore. It offers Brian's personal take on emerging and developing trends in Russian politics, shining a spotlight on the high-stakes power struggles, machinations, and clashing interests that shape Kremlin policy today. Check out The Power Vertical Facebook page or Follow @PowerVertical