Podcast: Thunder On The Right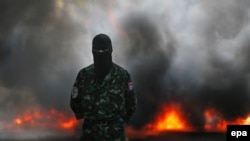 It was the worst political violence Kyiv has seen since the Euromaidan revolution.
It killed three police officers and wounded scores more.
This week's violence in front of Ukraine's parliament has raised questions about whether nationalist groups are out of control and risk becoming a mortal threat to the country's pro-Western authorities' efforts to establish a cohesive state and a functioning democracy.
Ukraine's far right is armed and it's angry. Can it be contained?
Joining me are Andreas Umland, a senior research fellow at the Institute for Euro-Atlantic Cooperation; Anton Shekhovtsov, a visiting senior fellow at the Legatum Institute and a contributor to the recently published book Eurasianism and the European Far Right; and Alexander Clarkson, a lecturer in European and international studies at King's College London and a frequent commentator on Ukrainian affairs.
Enjoy...
Listen to or download the podcast above or subscribe to The Power Vertical Podcast on iTunes.​
About This Blog
The Power Vertical is a blog written especially for Russia wonks and obsessive Kremlin watchers by Brian Whitmore. It offers Brian's personal take on emerging and developing trends in Russian politics, shining a spotlight on the high-stakes power struggles, machinations, and clashing interests that shape Kremlin policy today. Check out The Power Vertical Facebook page or Follow @PowerVertical