Russian Police Disperse Anti-Kremlin Rallies, Detain 120 Activists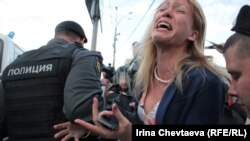 Police in Moscow and St. Petersburg have dispersed small anti-Kremlin rallies and detained some 120 opposition activists.
Eduard Limonov, the leader of the unregistered Other Russia party, was among the activists rounded up by police in Moscow's Triumph Square.
In both rallies, protesters chanted "Shame!" and "Russia without Putin," referring to President Vladimir Putin.
Opposition activists from the Strategy 31 initiative hold rallies in Moscow and other Russian cities on the last day of every month that has 31 days. Article 31 of the Russian Constitution guarantees freedom of assembly.
According to Russian media reports, some 300 protesters gathered in the unsanctioned rally in downtown Triumph Square.
PHOTO GALLERY: Moscow police disperse anti-Kremlin rally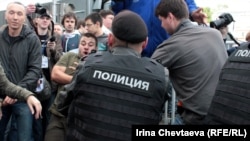 Based on reporting by Reuters, AP, ITAR-TASS, and RIA Novosti