Nationalists Rally in Moscow, One Day After Massive Antigovernment Protests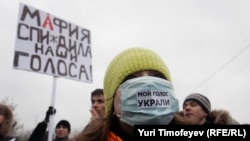 Some 300 nationalists staged a rally in downtown Moscow at the same site as massive antigovernment protests on December 10.
Carrying imperial Russian flags and banners, they demanded a bigger say for ethnic Russians in the country's politics.
The rally comes a day after massive nationwide demonstrations protesting the results of Russia's December 4 parliamentary elections, in which United Russia, the party of Prime Minister Vladimir Putin, won a majority amid claims of fraud and vote-rigging.
Tens of thousands of people gathered in Moscow alone, calling for fresh parliamentary elections and the release of arrested protesters.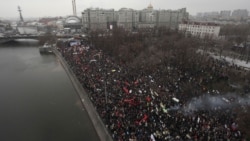 Many carried signs reading "Russia Without Putin" in opposition to Putin's plans to retake the presidency in elections in March, a move that would leave him the dominant figure in Russian politics for at least six more years.
Large demonstrations were seen across all of Russia, with thousands of people turning out in St. Petersburg, as well as the country's third-largest city of Novosibirsk, and the Urals industrial city of Chelyabinsk.
The protests, which in a surprise move were broadcast on state TV, forced officials to acknowledge the public is "displeased" by the recent vote.
The protests were seen as mainly peaceful, with police showing restraint. However, dozens of arrests were still reported, mainly in the country's regions.
In a statement released late on December 10, Dmitry Peskov, Putin's press secretary, said Russian citizens had a right to express their point of view as long as they did so "in a lawful and peaceful manner."
Russian President Dmitry Medvedev said he disagreed with demands for a rerun of the parliamentary elections.
Medvedev wrote on his Facebook account today that he disagrees with the slogans and declarations made at the rallies. He repeated that he had "issued instructions to check all polling station reports" about possible violations.
compiled from agency reports