Russia Threatens Veto On Syria Resolution As Death Toll Rises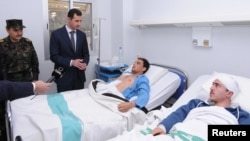 A senior Russian official says a UN Security Council debate on the crisis in Syria is likely to last for days.
Russian Deputy Foreign Minister Gennady Gatilov said a vote on a draft resolution on Syria needs more time and that "there is not going to be any vote at all in the coming days."
The Arab League -- backed by the United States, Britain, and France -- presented to the Security Council on January 31 a draft resolution that calls on President Bashar al-Assad to end the bloodshed in Syria and hand over power.
U.S. Secretary of State Hillary Clinton called for immediate action before any more lives are lost in the violence.
Russian officials have criticized the proposed text, saying it does not explicitly rule out foreign military intervention.
Clinton said the draft does not advocate outside military intervention.
She and Arab diplomats had been pressing Moscow and Beijing -- both of which are veto-wielding members of the Security Council -- to reverse their opposition to the resolution.
Russian UN Ambassador Vitaly Churkin said his country will veto any Security Council resolution on Syria seen as aggravating the conflict.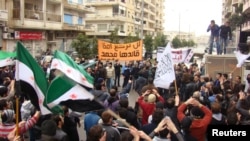 "If the text will be unacceptable for us, we will vote against it, of course," he said. "If it is a text that we consider erroneous, that will lead to a worsening of the conflict, we will not allow it to be passed. That is unequivocal."
Speaking in New York on February 1, Churkin said putting the resolution to a vote would be "counterproductive" and said Russia would not back down from its demand that an internal solution be found to resolve the crisis.
Churkin urged members of the Syrian opposition to be "courageous" and begin dialogue with Assad's regime.
The wrangling at the United Nations came as fighting continued across Syria between Assad's security forces and army deserters siding with the opposition.
Activists said at least eight civilians and 15 soldiers were killed during fighting in the central city of Homs on February 1. They said the violence has killed nearly 200 people nationwide over the past three days.
The United Nations estimates that more than 5,000 people have been killed in the security crackdown since protests against Assad's regime began 10 months ago.
The Syrian opposition on February 1 called for two days of demonstrations across the country to mark the 30th anniversary of the start of a government crackdown against a Sunni Muslim uprising in the town of Hama ordered by Assad's father, Hafez al-Assad.
As many as 40,000 people were killed in that monthlong crackdown in 1982, most of them civilians.
Syrian Ambassador to the UN Bashar Jaafari said his government is not responsible for the current conflict. He blamed the U.S. and its European allies, saying they are motivated by a desire for "the return of colonialism and hegemony."
Compiled from agency reports