Tadic's 'Kosovo and EU' Policy Hangs In The Balance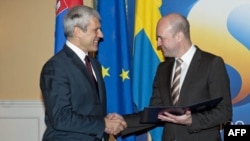 Serbian President Boris Tadic claims that joining the European Union is as important as fighting to regain Kosovo.
His unprecedented shot at the EU, however, after the postponement of a candidate-status decision for Serbia because of a lack of cooperation with Kosovo, appeared to indicate that the balance has tipped in favor of the latter, ahead of general elections next spring.
On the other hand, there are also media reports of turmoil within his ruling Democratic Party over the EU setback. If these reports are true, it suggests that the biggest victim may ultimately turn out to be the government's loudest Kosovo hawk -- Cambridge- and Harvard-educated Foreign Minister Vuk Jeremic.
This, at least for some commentators, means that a possible reset of Tadic's "both Kosovo and the EU" policy may yield some surprising results.
After initially describing last week's postponement of the EU's candidacy decision until March as just a small obstacle that would soon be overcome, Tadic on December 13 accused the EU of imposing an unacceptable last-minute condition that would have resulted in the "de facto" recognition of Kosovo's independence.
Tadic said the EU's insistence that Belgrade allow Kosovo -- which has been recognized by 85 countries, including 22 of the European Union's 27 members -- to take part in regional forums amounted to acknowledging that the former province was lost to Serbia forever.
'An Unpleasant Surprise'
"That condition was not formulated per se but that's what it means in reality," Tadic said, while Deputy Prime Minister Ivica Dacic added that Serbia would not even get candidate status in March because of this.
Jelko Kacin, the European Parliament's rapporteur for Serbia, dismissed Tadic's statement as "an unpleasant surprise" and said it was made with his domestic electorate in mind.
"The only thing that has been asked of Serbia is to allow the free passage of people, goods, ideas and capital, which is the basic principle of the EU," the Slovenian said.
The EU-sponsored Serbia-Kosovo "technical" talks on free trade and the joint control of border crossings (which have been blocked for three months by Kosovar Serbs protesting against the presence of Kosovo border guards and customs officials) have been gridlocked as a result of Belgrade's failure to implement some measures that have already been agreed on things such as cross-border trade and customs stamps
A radical shift?
Cedomir Jovanovic, the head of the opposition Liberal Democratic Party, claimed the "new condition" had been invented by Tadic and was nothing more than a smokescreen to hide his own failed policies.
"The conditions have been known for a long time," he said. "This only proves that, since December 9, the government has definitely begun abandoning its course toward European integration."
Jovanovic is one of the signatories of a "Turnaround" petition -- an initiative by a group of prominent public figures who have called for the relinquishment of Kosovo, which they see as a lost cause.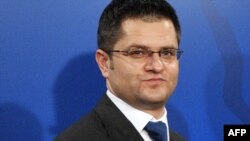 Nonetheless, not all those around Tadic seem to be persuaded that sitting on two chairs is still possible.
Belgrade media reported this week that discontent is growing in the ranks of the Democratic Party after the EU setback. The best selling "Blic" daily suggested on December 15 that Jeremic was the embodiment of the EU and Kosovo policy.
"Both Jeremic and that policy are still in force even though, because of Kosovo, this has resulted in Serbia's obvious failure to obtain candidate status two years after applying for it," the newspaper said, adding that Jeremic didn't bother to resign unlike his party colleague and Deputy Prime Minister Bozidar Djelic.
Miljenko Dereta of the Civic Initiatives nongovernmental organization maintains that the real or imagined pressure from Brussels may actually help Tadic make a radical shift. He believes that there are already signs of this change in the latest developments.
"I think that everything which is happening with Tadic and Dacic may actually be preparing our public to [accept] the need for a really sharp conclusion to be reached very soon, and that is the recognition of Kosovo as a reality," said Dereta, another "Turnaround" signatory.
"Maybe it will be called something other than independence, but Serbia will have to fundamentally reassess its policy [on Kosovo]."
-- Nedim Dervisbegovic, with reporting by RFE/RL's Belgrade bureau
About This Blog
Written by RFE/RL editors and correspondents, Transmission serves up news, comment, and the odd silly dictator story. While our primary concern is with foreign policy, Transmission is also a place for the ideas -- some serious, some irreverent -- that bubble up from our bureaus. The name recognizes RFE/RL's role as a surrogate broadcaster to places without free media. You can write us at transmission+rferl.org