Turkey Cuts French Ties After 'Genocide' Vote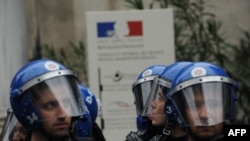 ISTANBUL -- Turkey has responded angrily to a French legislative vote on criminalizing genocide denial by halting some military cooperation with France, highlighting Ankara's long-standing refusal to recognize the mass killings of Armenians at the twilight of the Ottoman Empire as genocide.
Prime Minister Recep Tayyip Erdogan, who had warned of repercussions ahead of the French lower-house vote, said Turkey will abandon standing permission for French military planes to land and instead decide on a case-by-case basis, and it will refuse French warships access to Turkish ports effective immediately.
"Efforts to gain votes using Turkophobia and Islamophobia just to win the presidential elections in France and for personal ambitions raises concerns, not only about France, but also about all of Europe and the universal values of Europe," Erdogan said.
Earlier in the day, Turkey announced it was recalling its ambassador to Paris for consultations.
French Foreign Minister Alain Juppe urged restraint from Ankara, saying "there was a parliamentary initiative, which we take into account, and what I hope now is that our Turkish friends do not overreact about the French National Assembly decision."
Turkish ministers have also warned that French companies could pay a heavy price.
The moves come after passage by the lower house of legislation that would punish the denial of any genocide recognized by the French state with up to one year in prison and a fine of $58,000.
France currently recognizes the mass murder of Tutsis and moderate Hutus in Rwanda in 1994, the Holocaust carried out against Jews and Roma by Nazi Germany during World War II, and the mass killing of Armenians at the hands of Ottoman Turkey in 1915.
Thousands of Turkish residents waving French and Turkish flags protested against the genocide-denial bill outside France's National Assembly before the vote. But the demonstration had no visible effect on deputies in the lower house, who passed the bill easily in a show-of-hands vote.
It still faces an uncertain vote in the Senate before it can become law.
"It was necessary to have this vote on this issue of genocides, which are recognized by French law, so that we are able to legally punish those who deny the existence of these crimes and those who insult these crimes," the initiator of the bill, Valerie Boyer, said after the lower-house vote.
Leading members of Turkey's Armenian minority have also criticized the French bill.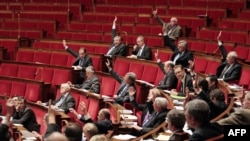 "It's really absurd, because it's not ethical for an Armenian," said Etyen Mahcupyan, columnist and former editor of "Agos," a leading newspaper serving the Armenian community in Turkey. "As an Armenian, I want the recognition of genocide or the historical facts, but acceptance is only valuable if there is a choice. On the other hand, I don't find the reaction of the [Turkish] government very credible -- I am amazed why they take it so seriously and so on."
Semih Idiz, a diplomatic correspondent for the Turkish newspaper "Milliyet," says "large French companies [could be] sidelined in terms of strategic investments in Turkey, nuclear power plants, thermal power plants, fast-train projects, and this sort of thing."
Paris has said any such moves would be restricted by international trade agreements that Turkey has committed itself to, including the European Union customs union.
Ankara has suggested it could end all diplomatic cooperation with Paris.
Murat Bilhan, a former Turkish ambassador and teacher of international relations at Kultur University, said that could have consequences for the Middle East.
"Strategic talks between Turkish and French government and bilateral meetings of cooperation in various fields could be suspended," Bilhan said. "So Turkey might not like to cooperate with France on Syria or any other matter in the Middle East."
The two countries are centers for Syrian opposition groups and have increasingly coordinated efforts in opposing Damascus's crackdown on dissent.
The French draft bill has reopened a simmering dispute dating back to 2001, when the French Parliament passed a bill recognizing the1915 mass killing of Armenians by Turkey's then-Ottoman rulers as genocide. Historians say up to 1.5 million Armenians died, although that number is fiercely contested by Turkey.
Ankara denies genocide, claiming the deaths occurred during civil strife in which many Turkish Muslims died as well. It argues the controversy should be resolved by historians, not politicians.
In what is seen as a gesture to Ankara, the new legislation was amended to remove any direct reference to the Armenian killings. French lawmaker Christian Jacob called for Turkish restraint and stressed the bill was not aimed at Turkey.
"We have to stay calm. Everyone knows the friendship that links us with Turkish people," Jacob said. "But at the same time, the French National Assembly is sovereign here, just as the Turkish assembly is sovereign there, too. And so this bill has nothing to do with the other law, the 'memorial' one that was voted in 2001, and it was honorable for our country to vote it in. Today we are simply implementing a law which will allow us to put criminal sanctions on the failure to respect the laws."
Such sentiments have done little to cool anger in Turkey over the bill, which leading Turkish political parties have condemned.
Turkish Prime Minister Recep Tayyip Erdogan appeared ahead of the December 22 vote to be carefully calibrating a possible response, saying that sanctions against France would be introduced in three steps.
After the vote he announced the checks on military cooperation with France.
Some observers suggest the French Senate, which is controlled by the center-left, is likely to support the bill.
Turkish parliamentary Foreign Affairs Committee head Volkan Bozkir, who led a delegation to Paris earlier this week to lobby against the bill, expressed hope it could still be blocked by what he called "administrative steps" in the Senate.
Bilateral relations were already strained over French President Nicolas Sarkozy's opposition to Ankara's bid to join the European Union.
Much of Turkish criticism has targeted the French president directly, with the Turkish prime minister accusing him of using the bill to support his reelection bid next year. A presidential election is due in France next year and the country's Armenian minority -- which numbers around 500,000 -- is seen as an important voting bloc.
written and reported by Dorian Jones in Istanbul; with additional wire reporting