Experts Unconvinced By Trailer Claiming Secret U.S.-Yugoslav Space Pact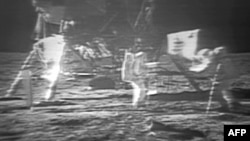 "One small step for man, one giant leap for mankind." Those, of course, were the famous words spoken by U.S. astronaut Neil Armstrong in 1969 when he first set foot on the moon.
But according to a film trailer that has caught fire on the Internet, the declaration may as well have been uttered in Serbo-Croatian, or perhaps Slovene, as well as English.
Uploaded to YouTube on January 9, the trailer (see below) previews "Houston, We Have a Problem!," a Slovenian "docudrama" that promises to reveal the truth behind the covert Yugoslav space program and tell how Marshal Josip Tito sold secrets to the United States, fueling its greatest cosmic one-upping of the Soviet Union.
As a soprano wails to the heavens in the background and historical footage flits by, an authoritative-sounding voice says: "In late 1960s, the CIA discovered that Yugoslavia already had operational space-flight technology. Yugoslavia secretly sold its complete space program to the U.S. in March 1961. In May 1961, [President John F.] Kennedy announced that the U.S. had chosen to go to the moon."
This and other bold claims and suggestions have captured the imagination of Internet users across the Balkans. The trailer garnered 200,000 views in two days and has now surpassed the 630,000 mark. Discussion of it has dominated Internet forums and blogs, with some hailing Tito, but most casting doubt on what the trailer suggests.
"In 1961, Yugoslavia could not even produce a decent harvest," one viewer wrote. The hype hasn't convinced experts, either -- either in the region or in the United States -- who say the clip makes some giant leaps of its own.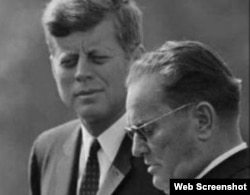 The trailer "draws a lot of links between events that may or may not have happened in some cases and connects the dots between a number of things that aren't necessarily connected whatsoever," says Bill Barry, the chief historian at the U.S. National Aeronautics and Space Administration (NASA).
"There's a lot of coincidence in time, but just because two things sort of happened one after the other does not necessarily mean that there's causation involved. There's a very big stretch involved here," Barry adds. "I would be very curious to see if there was any real historical evidence that holds up that supports the theory."
Experts Doubtful
The trailer is accurate, Barry says, in its acknowledgement of the serious contribution of Slovenian engineer Herman Potocnik, also known as Hermann Noordung, to 20th-century aerospace advances. But Barry also notes that Potocnik died just months after he published his culminating work, "The Problem of Space Travel," in 1929, making it doubtful that any secret diaries, as the trailer alleges, were direct precursors to the far more advanced work of the 1960s.
Even if there was a secret Yugoslav space program, Barry says, declassified material on Kennedy's decision to pursue a moon mission have been meticulously studied and make no mention of acquiring foreign technology.
He also notes that the document shown in the trailer purportedly detailing the sale of sensitive Yugoslav space research to the United States has U.S. Air Force, not CIA, markings on it.
In the Balkans, experts have also taken issue with the film trailer's assertion that "Object 505" -- which today is on the border between Croatia and Bosnia -- was the underground hub of Tito-era space research.
"It was very mysterious and one couldn't enter it easily. Only selected people could enter this underground facility and that's why it is still unknown to the public what was happening in Zeljava airport and what secrets it hides, but those weren't many," says former Yugoslav Army officer and aviation Lieutenant Ivan Prsa.
"The fact is that it was a very powerful air base with around 50 airplanes and it indeed had very strong firepower in order to defend the airspace of Yugoslavia -- and nothing else."
How Close To History?
In an interview with RFE/RL's Balkan Service, the film's Slovenian director, Ziga Virc, says the trailer is meant for producers and partners on the project and admits that his research is far from done.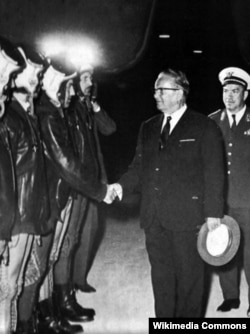 "We are in the phase of gathering all the facts, but we still need a lot, a lot of confirmation. We still need a lot of documents and archive-gathering so we can confirm," Virc says. "I would not like to be too sensational about this topic."
But Virc, who as a film student was a finalist for the 2010 Student Academy Awards, also maintained that "about 80 or 90 percent of things that are included in the trailer are actually more or less confirmed facts that you can find online."
He chose not to reveal the identity of his "intriguing sources" in the former Yugoslavia and in the United States, saying the project is not even in the preproduction stage.
The film's principal writer, Slovenian Bostjan Virc, describes the project in an e-mail as "based on real events with some dramatization and fiction added."
In a separate e-mail, he says, "We are aware that some of the hypothetical claims in the trailer were intentionally exaggerated."
But with the trailer referring to the film as both a "docudrama" and a "documentary," some in the space community say the filmmakers should make their intentions clear.
"It is in the interest of the filmmaker to make this as provocative as possible. That will generate interest and sales and financing if he needs financing to do this," says Roger Launius, senior curator in the space history division at the Smithsonian National Air and Space Museum in Washington.
"But what is your responsibility -- if you are interested in such things as history and truth -- what is your responsibility to stick to that?"
If funding is secured and all goes according to plan, the film is slated for a 2013 release.
RFE/RL's Balkan Service contributed to this report