Afghans Terrorized By Border Shelling As Blame Game Goes On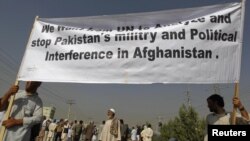 KUNAR PROVINCE, Afghanistan -- Abdul Karim was inside when the first rocket struck, killing nearly everyone in a neighboring mud-brick house.
Many more rockets followed, raining down on the village as Karim and others fled for safety in the nearby mountains. Within minutes, it was over, but it was only a sign of what was to come.
Since that day in late June, crossborder rocket and mortar fire has continued to pepper villages in Kunar and Nuristan provinces, located along Afghanistan's insurgent-ridden northeastern border with Pakistan. Nearly 3,200 attacks have been recorded across five districts in Kunar alone, according to the provincial government.
Kabul has accused the Pakistani Army of indiscriminately shelling Afghan villages in order to further destabilize the already restive regions.
Islamabad, which denies the accusations, says its troops are responding to attacks by militants on the Afghan side of the border.
And while the blame game goes on, the rockets keep coming, adding to the misery of everyday residents. Tens of people have been left dead and thousands displaced already in the remote, mountainous provinces. Homes have been lost and dozens of schools closed. Forest fires caused by the shelling have destroyed crops and killed livestock.
'Situation Is Appalling'
Karim, who is from a remote village in Kunar Province, is among those who left for safe haven. But reality quickly set in when he and his wife and three children arrived at a makeshift camp some 50 kilometers from his village.
"A lot of people have come here and are lying on the ground. They have fled, thirsty and hungry, from their homes without anything," Karim says. "Their crops and land have been destroyed. Those who stay are living in the rubble of their destroyed homes. The situation is appalling. Around 100 families have come to this camp alone."
The outcry has been fierce, with many locals enraged by the government's perceived inaction. Other Afghans have directed their anger at Pakistan, as was the case during protests in Kabul on August 30 in which pictures of Pakistani President Asif Ali Zardari were burned and participants chanted anti-Pakistan slogans.
WATCH: Afghans protest in Kabul
Public discontent has already spurred Afghan lawmakers to take steps to oust the country's two most powerful security officials. In early August, Defense Minister Abdul Rahim Wardak and Interior Minister Bismullah Mohammadi were given a vote of no-confidence by parliament over alleged security failures, including the failure to stop the shelling of Afghan territory from Pakistan.
Afghan President Hamid Karzai and his Pakistani counterpart, meanwhile, have agreed to assign a joint military delegation to visit affected areas and to investigate who is responsible for the shelling.
'Our Children Are Being Killed'
But the moves have done little to appease those suffering from the violence.
Ajmal, from Kunar's Wanat district, says locals face a daunting decision -- stay and risk being killed or leave everything behind in the faint hope of a better future elsewhere.
"If they can't do anything to help, they should tell us so we know that we have to live," Ajmal says. "If they can't do anything, what can we ordinary people do? When children cry, they go to their parents."
Waliat Khan, from Kunar's border district of Dangam, takes a harder line, saying that if Kabul can't find a solution, locals will take matters into their own hands.
"They [the government] told us not to worry, but our children are being killed and we are losing everything we had," Khan says. "The government said everything will be OK, but they have ruined us [with their empty promises]. We, the Afghan tribes, will deal with [Pakistan] ourselves."
Written by Frud Bezhan, with reporting from RFE/RL Radio Free Afghanistan's Rohullah Anwari