Afghans Accuse Authorities Of Passport Scam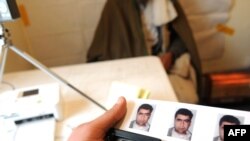 A shortage of blank passports in Afghanistan has led to a flourishing black market for the little blue books, according to Afghans who say they have had to go underground to obtain them.
Afghanistan's passport agency announced in October that they were running out of passports, and this situation has been causing problems
With no domestic ID system in place, passports are essentially the country's only official form of identification.
Four months later, Afghan citizens are accusing officials of taking advantage of the shortage by selling the much-desired documents to the highest bidder through hired middlemen.
And with more than 1 million Afghans waiting for a passport, many are more than willing to go down that route.
Mohammad, a Kabul resident who did not wish to reveal his full name for fear that the authorities would confiscate his passport, claims he turned to the black market to buy the document after trying unsuccessfully for several weeks to obtain one through the proper channels.
Soaring Passport Prices
Eventually he bought his passport for about $400 from a "middleman," agents Mohammad believes are hired by corrupt passport officials to sell travel documents on their behalf for large sums of money.
"We came here to get passports," he said. "The problem is that these illegal traders are selling them. We can't get passports unless we pay 20,000 or 25,000 afghanis [about $400-$450]."
According to Mohammad, the going price can sometimes run as high $800.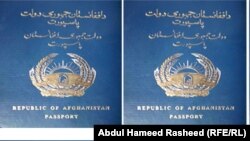 Mohammad maintains that he had to provide adequate documentation to the middleman and that the passport he received is genuine.
General Ayoub Nasiri is head of the Afghan Passport Agency, which is overseen by the Interior Ministry. He claims that a limited number of blank passports were kept available, and are issued under special circumstances, such as when a person has to travel abroad for health reasons.
He denies that any of his staffers are involved in illegal activities, insisting that illegal third parties who seek commissions in return for helping people obtain passports are to blame.
"I ask our people not to take passports from third parties but to go to the offices directly," he said. "They should know the law and their rights; meaning nobody can take money from them. They should know this."
When asked how a third party would be able to obtain a passport when they are only being given out under special circumstances, Nasiri said, "I don't know."
According to Nasiri, the Passport Agency ran out of blank passports last year when it was inundated with applications from Afghans seeking to participate in the Hajj, and from Afghans who had been deported from Iran for not having a passport.
Reforming The System
Dr. Azizullah Ludin, the head of Afghanistan's High Office of Oversight and Anti-Corruption (HOOAC), a government watchdog, confirmed that some passport officials are issuing passports in return for large amounts of money from citizens.
Ludin believes these examples of wrongdoing highlight the problem with the current passport system, under which the Passport Agency has only one office, in Kabul.
Outside the capital, passports are distributed to provincial leaders and security chiefs who, in turn, issue and sell them through their offices.
In order to minimize the chances of bribery and the processing times for issuing passports, Ludin told RFE/RL that the HOOAC is working with the Interior Ministry to create a passport system that is firmly controlled by government authorities.
"We need to create a passport system in Afghanistan that is national," he said. "Whoever needs a passport shouldn't feel obliged to visit a certain commander or chief, since their primary concern is security. If there were a local passport office anybody could go there and receive the help they need."
In the meantime, Afghans will have to make do with the current system. And it now seems that there is some light at the end of the tunnel -- the Finance Ministry has ordered 1.4 million new blank documents, and 35,000 arrived just this week.
RFE/RL's Radio Free Afghanistan contributed to this report