Eurozone States Agree To Stricter Budgetary Discipline To Save Euro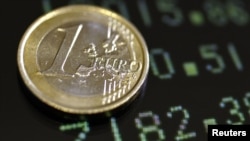 BRUSSELS -- The 17 eurozone states, plus most but not all of the other EU states, have agreed to a new deal aimed at saving Europe's common currency.
During negotiations that lasted till morning, leaders of 23 of the EU's 27 states agreed to surrender more of their sovereignty under a new "fiscal compact." The accord, which they hope to complete by March, would enforce stricter budgetary discipline and include some sanctions for violators.
The deal will possibly also include nine countries currently not using the euro, once they have received the go-ahead from their respective national parliaments. But it will not include Britain, which has rejected the proposal for closer fiscal union.
Still, Herman Van Rompuy, the president of the European Council, accentuated the positive -- saying countries had agreed to stricter budget discipline.
"The 17 member states of the eurozone and already many others are committed to a new fiscal compact, a new European fiscal rule to be transposed in national legislation," he said. "It is about more fiscal discipline, more automatic sanctions, stricter surveillance."
French President Nicolas Sarkozy said that several attempts had been made to conclude a deal in which the entire 27-state EU could join. But he said that became impossible when the United Kingdom asked for a special protocol to exempt London from regulations on its financial-services industry.
"We would have preferred a reform of the treaties among 27 [countries]," Sarkozy said. "That wasn't possible, given the position of our British friends. And so it will be through an intergovernmental treaty of 17, but open to others."
Constitutional 'Golden Rule'
Before the summit, Sarkozy and German Chancellor Angela Merkel were adamant about pushing for a closer economic integration that would enforce stricter budgetary discipline as the way to combat the economic crisis.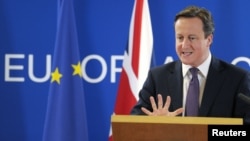 The pair managed to get through a series of proposals to toughen up the economic governance of the eurozone. These include near-automatic sanctions for any country that runs up a budget deficit of more than 3 percent of gross domestic product (GDP). The sanctions can only be reversed if 85 percent of the member states vote against it.
Merkel and Sarkozy also pushed through their demand that states agreeing to the deal adopt a "golden rule" of having a balanced budget and enshrine it in their national constitutions. That is seen as a way of assuring the countries' own Constitutional Courts force their governments to observe fiscal restraint.
At the same time, the deal will require signatory states to submit their draft budgets for early European Commission supervision. It is not yet clear what would happen if the commission objected to any state's proposed budget.
The heads of government aim to have their deal fully written by March, but it remains unclear what kind of ratification the accord will need to come into force.
The heads of governments are due to meet again in Brussels later on December 9 to work out what more about what the deal will contain and how violators would be punished.
Will Voters Approve Deal?
As the 23 heads of government aim to have their deal fully written by March, it remains unclear what kind of ratification the accord will need to come into force.
New EU treaties require unanimous ratification by member states, with most states holding parliamentary votes and some requiring referendums. But Sarkozy has termed the new deal an "intergovernmental accord," suggesting it does not fall under the usual rules for treaties.
Van Rompuy also called the new deal something that could be fast-tracked.
"An intergovernmental treaty can be approved and ratified much more rapidly than a full-fledged treaty change, and I think speed is also very important to enhance credibility," Van Rompuy said.
Whether that view prevails, particularly in places such as Ireland, whose constitution requires any transfer of sovereignty be put to a plebiscite, remains an open question.
So does what would happen to any current eurozone member that failed to get domestic approval for the deal -- would it then have to give up the common currency?
Euro Boost, For Now
Despite the questions, optimism was high in Brussels after the deal was agreed.
European Commission President Jose Manuel Barroso declared himself satisfied with the deal and said he hoped it would bring back confidence in the euro area.
"The core of these issues is problems of confidence and I think it is important that the euro-area member states have today decided to have a new fiscal rule, a new fiscal rule that is much more ambitious than the one we have so far," Barroso said.
Meanwhile, the Brussels meeting took new measures to stop the immediate debt crisis from spreading to other troubled eurozone countries.
EU leaders agreed that the permanent rescue vehicle, the 500 billion-euro ($670 billion) European Stability Mechanism, will come into force in 2012, one year earlier than first envisaged.
They also agreed to commit another 200 billion euros ($267 billion) to the International Monetary Fund, which will channel the money back to boost the euro.
The EU leaders continue to try to curb their financial crisis through a bailout method because the European Central Bank (ECB) has earlier ruled that it cannot act as a lender of last resort to save the eurozone.
Observers have in recent month urged the Frankfurt-based bank to play a more active role. But before the summit, ECB President Mario Draghi dampened expectations by indicating that ECB action to buy up the sovereign bonds of debt-wracked countries was "limited" and "temporary."
With a lack of real commitment from the ECB, it remains uncertain whether the market ultimately will give a thumbs up to the latest EU measures to rescue the euro.
Reaction From The United States
Washington, meanwhile, has welcomed what it described as "some progress" in the fight to end the eurozone debt crisis after the EU summit in Brussels.
However, White House spokesman Jay Carney said more work remained to be done.
Elsewhere, the chairman of the U.S. Joint Chiefs of Staff said that the U.S. military is "extraordinarily concerned" about security threats to the United States stemming from the health and viability of the euro currency.
General Martin Dempsey was speaking to reporters in Washington on December 9 on the sidelines of a conference on security and partnership at the Atlantic Council in Washington.
Dempsey said the "eurozone is at great risk," adding that the crisis could potentially prompt "civil unrest" and even "the breakup" of the monetary union.
Dempsey also said it is unclear whether measures taken by European leaders so far to shore up the euro currency "will be the glue that holds it together."
with agency reports