Foreign Countries Appear To Take WikiLeaks Revelations In Stride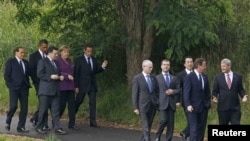 Governments around the world have tended to downplay the United States' embarrassing problem over the ongoing release of hundreds of thousands of its confidential diplomatic cables by WikiLeaks.
WikiLeaks is releasing on the Internet up to a quarter of a million previously confidential U.S. State Department documents, at the rate of several hundred a day. These in many cases give new insights into the candid opinions of U.S. diplomats on foreign leaders and their policies.
For instance, Afghan presidential spokesman Wahid Omer told reporters in Kabul that he saw nothing in the cables that would strain relations with Washington, despite the disclosure that one cable describes President Hamid Karzai as extremely weak and says his brother is in the drugs trade.
Similarly, the leaders of U.S. allies France, Germany, and Britain have shrugged of partly negative assessments of themselves as reflected in diplomats' cables home.
Realpolitik From Beijing
China -- at the center of a surprising revelation about North Korea -- has said it does "not want to see any disturbance to China-U.S. relations."
According to the leaked documents, senior Chinese officials allegedly told U.S. diplomats that China did not regard North Korea as a useful ally and would not intervene if the communist-ruled state collapsed. The officials also allegedly suggested that China would be willing to accept a reunited Korea.
WATCH: UN Secretary-General Ban Ki-moon talks to RFE/RL about WikiLeaks and reports that the U.S. State Department asked American diplomats to spy on Ban and other senior UN staff:
Chinese Foreign Ministry spokesman Hong Lei referred mildly to the affair, neither confirming nor denying the assertions.
"China has taken note of the relevant reports and hopes that the U.S. side will appropriately resolve relevant issues," Hong told a November 30 news briefing in Beijing. "We will not comment on the contents of the documents.
Another interesting cable that has come to light is one in which Egyptian President Hosni Mubarak allegedly advised the United States in 2008 to "forget" about democracy in Iraq and allow a dictator to take over there again.
He expressed fear that Iran would take charge of Iraq if the United States left behind a weak democracy. Mubarak is quoted as saying that countries in the region are "terrified" by the possibility of a nuclear Iran. The Egyptian government has not commented on the allegations.
Embarrassing 'Attack'
U.S. officials are furious about the WikiLeaks campaign, which they seem powerless to stop but which they see as endangering their diplomats and intelligence personnel overseas as well as damaging trust between governments.
U.S. Secretary of State Hillary Clinton called the disclosures "not just an attack on America's foreign policy interests...[but also] an attack on the international community, the alliances and partnerships, the conversations and negotiations that safeguard global security and advance economic prosperity."
Increasing the embarrassment for Washington is the breach of internal security that has seen presumed U.S. government employees able to steal such a key file as the State Department's correspondence from diplomats around the world.
Ironically, the United States ordered its various security-related departments and agencies to share sensitive information more readily with each other after the 9/11 terror attacks, when it was felt that these entities were hindering the flow of information which could have given clues to the plot in advance. This made it easier to steal information on a big scale, and a tightening up of procedures is under way again.
written by Breffni O'Rourke, with agency reports