Winter Cold Snap Kills Dozens In Central, Eastern Europe
A severe cold snap across Central and Eastern Europe has left dozens of people dead.
Officials are responding with measures ranging from opening shelters to dispensing hot tea, with particular concern for the homeless and elderly.
Ukraine's Emergency Situations Ministry reports that 30 people have died of hypothermia in the country over the last five days.
The ministry said another 500 people have been treated for frostbite and other weather-related conditions. Most of the victims are said to be homeless.
Temperatures in some Ukrainian areas fell to minus 33 degrees Celsius, as the country endures its coldest winter in six years.
In Poland, at least 10 people froze to death as the cold reached minus 26 Celsius on January 30.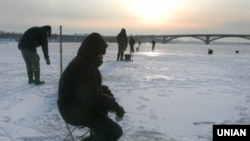 City authorities in the Czech capital, Prague, set up tents for an estimated 3,000 homeless people. Freezing temperatures also damaged train tracks, slowing railway traffic.
A woman was also found frozen to death in a garden shed in Prague.
In central Serbia, three people died and two more are missing. Police said one woman froze to death in a snowstorm in a central Serbian village, while two elderly men were found dead, one in the snow outside his home. Further south, emergency crews are searching for two men in their 70s who are feared dead.
In Bulgaria, a 57-year-old man froze to death in a northwestern village and emergency decrees were declared in 25 of the country's 28 districts. The Danube River started to freeze over, threatening shipping.
The situation was similar in Romania, where reports said four people have died because of freezing weather.
Compiled from agency reports