Kazakhstan: U.S. Businessman Pleads Not Guilty In 'Kazakhgate' Case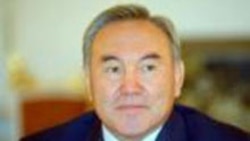 James Giffen, the defendant in a corruption case associated with top Kazakh officials pleaded not guilty yesterday to multiple charges of fraud and bribery in a U.S. federal court. The indictment alleges that Giffen, a U.S. citizen and a former consultant to the Kazakh government, funneled over $78 million from oil-concession fees to secret bank accounts in Switzerland belonging to Kazakh President Nursultan Nazarbaev, his family, and other officials.
New York, 4 June 2004 (RFE/RL) -- During the pretrial hearings on 3 June, Giffen's attorneys argued before U.S. Federal Judge William Pauley that the case against Giffen, now popularly known as "Kazakhgate," should be dismissed.
The defense argued that actions that took place in Kazakhstan should not be questioned in another nation's courts. They also said it is not the role of courts to decide cases that may affect their nation's foreign policy.
Rinat Akhmetshin is the director of the International Institute for Economic and Political Research in Washington, D.C. He tells RFE/RL the Kazakh government has long pushed for such a defense, warning the case would complicate U.S.-Kazakh relations: "The Kazakh government made a very serious effort to stop this investigation. The lawyers who were retained by the government of Kazakhstan appealed to the [U.S.] Justice Department, asking the department to stop the investigation and trying to cite international importance of this case. They asked for committee considerations. But it didn't work out, because obviously it's not a decision for the White House or certain Senate commissions to stop or to initiate anything [with regard to judicial proceedings]."
"The Kazakh government made a very serious effort to stop this investigation."
The defense also argued that because Giffen was acting supposedly at the behest of the Kazakh government, his actions -- funneling more than $78 million in unlawful payments to the Swiss bank accounts of Kazakh officials between 1995 and 1999 -- do not constitute a crime.
But prosecutors said Giffen's status as a consultant employed by the Kazakh government is irrelevant, because the financial transactions in question were made on behalf of individuals -- namely Kazakh President Nursultan Nazarbaev, his family members, and former Oil Minister Nurlan Balgimbaev -- and not the government or citizenry.
Defense lawyers also said Giffen was acting in Kazakhstan as the "eyes and ears" for U.S. intelligence agencies and, as such, was approved by the U.S. government.
But Charles Both, an attorney who is closely following the case, says even if Giffen was acting as a U.S. agent -- which he doubts -- that would have no bearing on his illegal money transfers to the Swiss accounts: "For all I know, [Giffen] wasn't a CIA agent. Maybe he was, maybe he was providing [information to the United States]. I don't know if he was or not. But I don't see how his existence as such has anything to do with whether he bribed high officials in the Kazakh government and deprived the Kazakh people of monies that would have otherwise gone to them that instead went to these individuals."
The federal indictment traces the payments to the proceeds of six separate oil transactions in Kazakhstan and describes a complex web of hidden payments. If convicted on all charges, the 63-year-old Giffen could face up to 88 years in prison.
At the heart of the investigation lies an alleged violation of the Foreign Corrupt Practices Act, a serious criminal offense in the United States. The Giffen case is considered one of the largest such cases to be prosecuted under the law.
Judge Pauley acknowledged in his remarks yesterday the "extreme complexity" of the case and that he is aware of possible political ramifications regarding U.S.-Kazakh relations.
He said that he will issue separate decisions on the motions within the next several weeks. Jury selection for the trial is scheduled to begin in early September and the trial itself is due to begin on 4 October.
Giffen, who is free on a $10 million bail, attended the hearings.