Georgia: Tensions Flare In Separatist Provinces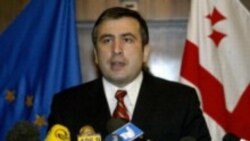 Georgian President Saakashvili (file photo) Prague, 5 August 2004 (RFE/RL) -- Relations between Moscow and Tbilisi came under strain earlier this week when Georgian President Mikheil Saakashvili threatened to sink any Russian ship that approaches the breakaway region of Abkhazia.
In a separate development, a Russian lawmaker yesterday came under fire while traveling to South Ossetia from Georgia. Both incidents came amid increased tensions sparked by recent violence and Saakashvili's repeated pledges to reassert control over Georgia's two breakaway provinces.
Addressing reporters 3 August, hours before leaving for the United States, Georgian President Mikheil Saakashvili said he had issued orders to sink any ship that attempted to reach the Black Sea province of Abkhazia without Tbilisi's consent.
"Regarding Abkhazia, I issued orders earlier and I confirm them now. We must open fire on all ships entering our waters and sink them immediately," Saakashvili said. "To the so-called Russian tourists [that come to Abkhazia], I say the following: Don't come and spread your deck chairs in places that are still soaked with Georgian blood and where [people] used to play with Georgian skulls!"
This is the strongest warning given on Abkhazia by the Georgian leader since he won his election to the presidency in January.
In the recent past, Georgian coast-guard officers have arrested Turkish ships and other vessels trying to enter Abkhazia's waterways. But this is the first time Saakashvili -- who has made the restoration of Georgia's territorial integrity a central policy goal -- has directly threatened Russia.
"I was surprised to hear the statement made by the Georgian leadership regarding the Black Sea waterways near Abkhazia's coast. Generally speaking, it smacks of piracy." -- Russian Defense Minister Sergei Ivanov
Moscow helped Abkhazia and South Ossetia forcibly secede from Georgia in the early 1990s and has been developing strong political and economic ties with both provinces since then.
Paradoxically, it has also helped the warring sides broker cease-fire agreements and has been maintaining peacekeepers in the region. Many observers in Tbilisi cite such factors as evidence of Russia's continued determination to meddle in Georgian affairs.
Moscow reacted angrily to Saakashvili's remarks. A Russian Foreign Ministry statement issued yesterday said the Georgian leader's threats showed he was "losing all sense of the realities of the modern world."
Russian Defense Minister Sergei Ivanov made an implicit threat that Moscow would resort to force, if necessary, to protect ferries carrying Russian tourists to Abkhazia.
"I was surprised to hear the statement made by the Georgian leadership regarding the Black Sea waterways near Abkhazia's coast," Ivanov said. "Generally speaking, it smacks of piracy."
The Abkhaz leadership also reacted angrily to Saakashvili's threats, vowing to ensure the security of Russian tourists traveling to the Black Sea region.
Abkhaz leader Vladislav Ardzinba's senior aide, Astamur Tania, accused Tbilisi of threatening stability in the region.
"It is perfectly clear that the Georgian side is taking actions that put the peace process under threat and grossly violate the [1993] Moscow cease-fire agreement," Tania said.
Georgia's coast-guard chief, Davit Gulua, attempted yesterday to downplay the furor triggered by Saakashvili's remarks, saying they should be considered only a "warning."
At the same time, the Georgian Foreign Ministry today said it regrets the "aggressive and inappropriate" tone of Russia's reaction.
Tension is also mounting in the narrow mountainous province of South Ossetia.
A convoy escorting Russian lawmaker Andrei Kokoshin came under fire while traveling from Tbilisi to the South Ossetian capital of Tskhinvali.
The incident occurred near Sarabuk, 10 kilometers northeast of the capital, in the tiny demilitarized corridor that separates Georgian and South Ossetian forces.
A Russian RTR television crew traveling with the parliamentarian was able to film the entire incident, which reportedly lasted 30 minutes.
The Russian peacekeepers say unidentified Georgian armed units targeted Kokoshin's motorcade, triggering an exchange of fire with the South Ossetian side.
Tbilisi in turn blames Tskhinvali for the incident, saying the South Ossetian forces were the first to open fire.
The shootout is the latest in a recent string of incidents including skirmishes, the seizure of Russian military and humanitarian convoys, and the capture of Georgian peacekeepers by South Ossetian troops.
Moscow issued a protest note yesterday urging Georgian authorities to investigate the shootout and find those responsible for the "anti-Russian provocation."
In comments made to RTR, Kokoshin blamed what he called "warmongers" in Tbilisi for triggering tensions in South Ossetia. The Russian lawmaker expressed fear that large-scale military clashes in the area might resume.
Meanwhile in Moscow, the State Duma -- the lower chamber of the Russian Parliament -- held an emergency debate today on the situation in Abkhazia and South Ossetia. In a declaration adopted at the end of the hearings, lawmakers criticized what they described as the "shortsighted" policy of the Georgian leadership and called upon President Vladimir Putin and his government to ensure that the situation in the region "goes back to normal."
Addressing legislators earlier today, First Deputy Foreign Minister Valeri Loshchinin -- who represents Moscow at the four-party commission charged with negotiating the South Ossetian conflict -- said this week's incidents have "cast a serious shadow on Russian-Georgian relations."
Yet Loshchinin said his administration is against imposing any sanction on Georgia and will continue to favor dialogue with Tbilisi.