Olympics 2004: After Medal-Winning Glory, What Next For Former Soviet Athletes?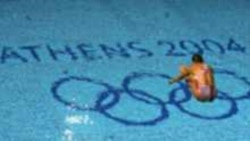 Of the 16,000 athletes set to compete in this month's Olympic Games in Athens, only a handful will take away a gold, silver, or bronze medal. For many of them, their appearance at the Summer Games is the culmination of a lifetime of training. Winning a medal may mark the very pinnacle of their sports careers. But what about life after the games? Once their dream of an Olympic medal is achieved, what becomes of these star athletes? RFE/RL looks at the fate of some former Olympic medalists from the former Soviet Union.
Prague, 6 August 2004 (RFE/RL) -- Ukraine's Katerina Serebrianskaya won a gold medal in the rhythmic gymnastics individual all-around at the 1996 Atlanta Games.
She explained to RFE/RL's Ukrainian Service how important Olympic athletes are for a country's international image.
"Unfortunately, Ukraine abroad is known mostly because of its sportsmen, like [pole vaulter Serhiy] Bubka, [tennis player Andrei] Medvedev, [football player Andriy] Shevchenko, [Katerina] Serebrianskaya, [gymnast Elena] Vitrichenko. Also, Ukraine is known because of Chornobyl and some other negative political events in the country. So sportsmen are the only positive factor that people abroad know about Ukraine," Serebrianskaya said.
"Ibragim Rizoevich [Hasanov] is a former multiple champion of the Soviet Union and Tajikistan in canoeing, and [a participant in the] Olympic Games. And now, at 66 years of age, he is working as a housekeeper in order to get some money for a living."
After retiring from competition, former champions often use their experience and fame to coach youngsters and open their own sports club. Serebrianska now directs a gymnastics club in Kyiv and is chief editor of the sports program at state television Channel One.
Kazakhstan's Zhaksylyk Ushkempirov, a gold medalist in Greco-Roman wrestling at the 1980 Moscow Games, directs a sports club in a rural area of the Zhambyl region.
Twenty-four years after he won Kyrgyzstan's first-ever Olympic gold medal, in weightlifting, at the 1980 Moscow Games, Kanybek Osmonaliyev is the deputy head of his country's Committee for Tourism, Sport, and Youth Politics.
Osmonaliyev, a living Kyrgyz sports legend, told RFE/RL's Kyrgyz Service that he is satisfied with his life.
"My life is fine. I live with my nation, in my homeland. [And] I have friends. To tell the truth, [everything is fine for me]. My children have grown up. My youngest son has finished secondary school [last year], he has entered the Faculty of Economy and wants to become a weightlifter. He is participating in weightlifting exercises now," Osmonaliyev said.
Former Olympic champions sometimes manage to use their fame to start a whole new life. Ukrainian pole vaulter Serhiy Bubka was elected in 2002 as a deputy in parliament and joined the pro-president For a United Ukraine bloc.
Bubka won a gold medal at the 1988 Seoul Games, has racked up an unmatched six world championships, and still holds the world record of 6.15 meters, set in 1994.
Other former champions have been living in difficult conditions after having lost most of the state support they had during the Soviet Union.
Zebinisso Rustamova, one of Tajikistan's only three Olympic prizewinners, won the bronze medal in women's individual archery at the 1976 Montreal Games, competing under the Soviet flag. She spoke to RFE/RL's Tajik Service.
"Russian officials provide former champions with monthly wages. How do former champions live in Tajikistan? I can give you one clear example. Ibragim Rizoevich [Hasanov] is a former multiple champion of the Soviet Union and Tajikistan in canoeing, and [a participant in the] Olympic Games. And now, at 66 years of age, he is working as a housekeeper in order to get some money for a living. I think it is not normal. It is a shame for every Tajik," Rustamova said.
Rustamova, who became minister of sport in the Tajik Soviet Socialist Republic, today coaches young people in sport and has been working with old people and indigent families in northern Tajikistan.
Born in the Soviet republic of Belorussia, Olga Korbut first captivated the world as a pigtailed 17-year-old at the 1972 Olympic Games in Munich.
Her performance there -- including a heart-stopping routine on the uneven parallel bars -- earned her three individual gold medals and one silver.
Since she moved to the United States in 1991, Korbut has been teaching gymnastics. But life is not always filled with golden moments for former Olympic champions.
Korbut was arrested in 2002 on charges that she shoplifted $19 worth of groceries from a U.S. supermarket. She was shortly released after she agreed to pay a fine rather than go to trial.
To her many fans, however, she will always be remembered as that tiny girl in pigtails, clutching a fistful of medals.
(RFE/RL's Tajik, Kyrgyz, Kazakh, and Ukrainian services all contributed to this report.)
More stories about the Olympics from RFE/RL:
Muslim Women Athletes Move Ahead, But Don't Leave Faith Behind
Despite Problems, Olympic Ideals Endure
For Some Athletes, Behind The Medals Lies Real Gold
Games Struggle For Spotlight, But Prestige Remains