EU: New Commissioner Calls For Urgent Steps To Control Flood Of Immigrants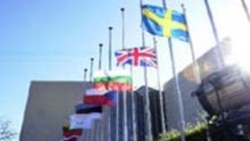 The European Union's new justice and home affairs commissioner says immigration into the EU is becoming a flood, and that members of the enlarged union must work much more closely together if the overwhelming flow of illegal immigrants is to be kept under control. The commissioner, Rocco Buttiglione, calls for a strategy under which immigrants are either turned back or given permission to proceed before they reach Europe. In this way, desperate people are spared -- at least, in part -- the dangerous and expensive path of illegal migration.
Prague, 24 August 2004 (RFE/RL) -- The European Union's incoming commissioner responsible for immigration has issued a strong warning about what he calls a "time bomb" for Europe -- namely, a flow of illegal immigrants which he says is reaching flood proportions.
The commissioner, Rocco Buttiglione, should know. He has been Italian foreign minister for three years, and has witnessed the misery of illegal immigrants who arrive on Italy's shores each week. And they are the survivors. Many others die on the journey to Europe, lost at sea, or suffocated in stifling containers.
Buttiglione said in remarks to Reuters that the 25 EU nations must work much more closely together on immigration. He calls for the development of a common EU border control, and the establishment of migrant holding centers outside EU territory.
"Some of them are stuck there, because they have run out of money. They have given all their money to these unscrupulous smugglers. And these people have nowhere to go, sometimes they don't have anywhere to stay, they don't have any food, they don't have any security, or shelter."
He also calls for new channels for legal migration. And he urges extra aid for poor countries, to enable them to keep their own populations at home.
None of these ideas is new, says analyst Sergio Carrera of the Center for European Policy Studies in Brussels. Carrera says the member states themselves have rejected much joint action at the European level.
"The role of the European Commission on immigration has been -- in my opinion -- quite good. But most of the policy proposals have not been adopted by the [member states acting as the] Council of Ministers. The Council has basically destroyed most of these proposals," Carrera said.
The reason for this, says Carrera, is that at the national level, the question of immigration is politically explosive. Purely economic studies may show Europe needs immigrant labor, but socially it is difficult.
"Of course, these are really sensitive issues for the member states. The member states basically fear that the EU might impose quotas and the numbers of migrants [that they have to accept]. [But] this is not the case," Carrera said.
Carerra says the matter has become more complicated since the 9/11 terror attacks on the United States. "After the 11 September attacks, most of the [EU] policies have been focusing on security aspects -- how to block illegal immigration and trafficking of human beings. That is very much needed, I agree. But instead of only focusing on policies like preventing illegal immigration, and expulsion [of illegal immigrants], we also need to develop a policy on legal migration, which may be really the step towards the solution to the massive flow of illegal migrants," Carrera said.
Commissioner-designate Buttiglione also says the EU must recognize that it is dealing mainly with economic refugees rather than political refugees, and must develop appropriate mechanisms.
In Geneva, a spokeswoman for the International Organization on Migration (IOM), Niurka Piniero, says successful examples of legal migration programs already exist.
"We already have labor migration programs. We have one that is very successful, between Ecuador and Spain. These people [the prospective immigrants] register with IOM in Ecuador. We have a database of 25,000 potential labor migrants. Then employers from Spain choose from that database. And so far, more than 2,000 people have traveled that way, and are now in Spain, with a regular contract, with social security benefits. They are not being exploited by smugglers or unscrupulous employers. It can be done -- migration just has to be managed that way," Piniero said.
Another policy which Buttiglione is intent on supporting is the establishment of "holding centers" for would-be immigrants in transit countries outside the EU.
Buttiglione suggests these holding centers could offer migrants humanitarian aid and information about job possibilities in Europe. They could also identify those individuals who are suitable to travel onward, and those who do not meet the criteria and should be returned home.
That proposal has been previously criticized as a violation of human rights, in creating what could be seen as something akin to concentration camps.
But Piniero sees merit in the idea. She says, for instance, that many immigrants end up destitute in transit countries, unable either to proceed to Europe, or to return home.
"Some of them are stuck there, because they have run out of money. They have given all their money to these unscrupulous smugglers. And these people have nowhere to go, sometimes they don't have anywhere to stay, they don't have any food, they don't have any security, or shelter," Piniero said.
In this way, she says, holding camps could offer a way of involving all the governments concerned -- the governments of the migrants' country of origin, the transit countries, and the EU -- in finding legal and humane solutions for these migrants.