Serbia-Montenegro: Milosevic Trial Faces Uncertainty As First Defense Witness Takes Stand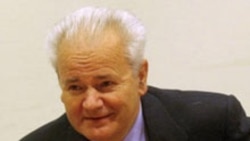 Milosevic: still wants to defend himself Slobodan Milosevic's court-appointed lawyers today called the first witness in his defense, as the ex-Yugoslav leader blasted the war crimes tribunal's decision to appoint lawyers for him and demanded he be given back the right to represent himself. Milosevic is facing numerous counts of war crimes, crimes against humanity, and genocide for his alleged role in the conflicts in the former Yugoslavia throughout the 1990s. The court last week imposed a defense counsel on Milosevic after his war crimes trial was repeatedly delayed due to his ill health. Legal experts say the decision could give new momentum to the 2 and 1/2 year-old trial. But as RFE/RL reports, it remains unclear how the trial will continue if Milosevic refuses to cooperate with his court-appointed attorneys.
Prague, 7 September 2004 (RFE/RL) -- The first defense witness took the stand today in The Hague at the war crimes trial of the ex-Yugoslav leader Slobodan Milosevic, as the accused himself was confined to a back-seat role.
But it was the court's decision to impose defense lawyers on Milosevic that took center stage at the trial today.
Judges on 2 September appointed Steven Kay and Gillian Higgins as defense lawyers, against Milosevic's will. The judges cited potential further delays in the proceedings due to the former president's heart trouble.
Today, Milosevic, who says he is able to conduct his own defense, blasted presiding Judge Patrick Robinson's refusal to let him question the witness, retired Serbian law professor Smilja Avramov.
"According to rule number 6 of the European Convention on Human Rights, there is a basic right to defend yourself, and that's a strong guarantee. So there must be very, very good reasons to impose counsel, and we haven't seen the exact legal reasoning for it yet."
Judith Armatta is a legal expert with the Coalition for International Justice, an independent group that is monitoring the trial. She tells RFE/RL that Milosevic has decided to appeal the court's ruling.
"Mr. Milosevic has asked his [court-appointed] counsel [Steven Kay] now to appeal the decision on self-representation. So our anticipation is that that issue will go before the appeal chamber fairly soon, and they'll decide whether or not the trial chamber was correct in appointing a counsel over [Milosevic's] objection," Armatta says.
Milosevic, who is 63, faces a total of 66 counts of war crimes and crimes against humanity for his alleged role in the 1991 to 1995 war in Croatia, the 1992 to 1995 war in Bosnia-Herzegovina, and the Kosovo conflict in 1998 and 1999.
He has also been charged with the most serious of war crimes, genocide, and complicity in genocide, for his alleged part in the Bosnian war, in which some 200,000 people died.
Avramov today defended Milosevic's record during the Balkan conflicts of the 1990s. She told defense counsel Kay that Milosevic had been a moderate attempting to avoid the breakup of the former Yugoslavia by peaceful means.
Prosecutors have repeatedly said the trial needed a "radical review" in light of Milosevic's health and called on the court to impose a lawyer on Milosevic.
But Milosevic has nonetheless insisted on preparing his own defense and spent around five hours delivering his opening statement last week.
Judges had been wary of appearing to violate Milosevic's right to defend himself, but they were finally swayed last week by medical reports warning Milosevic's life could be at risk if he continues to represent himself.
Dutch legal expert Heikelina Verrijn Stuart has been observing the course of the Milosevic trial. She says the court will have to carefully explain its decision to impose defense counsel on Milosevic.
"According to rule number 6 of the European Convention on Human Rights, there is a basic right to defend yourself, and that's a strong guarantee. So there must be very, very good reasons to impose counsel, and we haven't seen the exact legal reasoning for it yet," Stuart says.
Experts say it will be difficult for Milosevic's lawyers to defend someone who does not want to cooperate.
But Armatta says that since Milosevic has attempted to put forward a political case, rather than a legal one, the court has the right to impose its decision.
Furthermore, she explains that while it is important to work with the defendant, attorneys can conduct a defense even in the absence of such cooperation.
"Certainly, an attorney wants to hear from the client and to hear what their conception of the case is, particularly the factual situation. But it's the attorney who makes a professional decision. They're not mere mouthpieces for an accused, and it would be professionally impossible for a lawyer to go forward with the initial defense Mr. Milosevic set out, and that is a political defense, not for himself, but for Serbia. And Serbia is not on trial," Armatta says.
Tribunal watcher Stuart, meanwhile, says the court's decision to appoint a defense lawyer for Milosevic may actually speed up the procedure after months of delay, which raised doubts about the court's ability to try Milosevic.
"I think [the trial] is heading fast forward now. I think in the end the appeals chamber will accept this solution and it will become a much more normal criminal trial, with Milosevic being silent or only just adding some remarks or questions to what his defense counsel has done," Stuart says.
Armatta also thinks the decision will streamline the trial, eliminating long delays caused by Milosevic's illnesses and what she calls "his inept and irrelevant questioning."
The trial, which started in February 2002, has already been interrupted more than two dozens times after Milosevic fell ill. The case is expected to last until at least late 2005. The hearing was adjourned and will resume tomorrow with further testimony from Avramov.
Milosevic faces a life sentence if convicted.