Transdniester: Media Watchdogs, Officials Call For Release Of Moldovan Journalist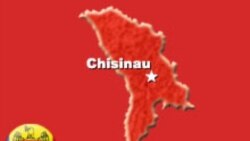 Moldovan officials and an international media watchdog group are calling for the release of a Moldovan television journalist who was beaten and then detained by Transdniestrian separatists. Cameraman Dinu Mija was attacked yesterday while trying to film the seizure of a railway station by separatists. He was later sentenced to 15 days in prison. Transdniestrian separatists also briefly detained a BBC crew last week. The attacks on journalists come amid heightened tensions between Moldova and its breakaway region.
Prague, 8 September 2004 (RFE/RL) -- A worldwide media watchdog group is calling for the international community to help secure the release of a Moldovan television cameraman detained by security forces in the separatist region of Transdniester.

Reports say Transdniestrian militiamen beat Dinu Mija late on 6 September. He was then detained and convicted of illegally visiting the breakaway region and of allegedly injuring a militiaman. Moldovan officials said Mija was sentenced to 15 days in prison.

The media watchdog group Reporters Without Borders (RSF) said international organizations should help Moldovan authorities secure Mija's release. Soria Blatmann, who heads the Europe desk of RSF in Paris, told RFE/RL: "We are very concerned about the fate of Dinu Mija. We know how difficult it is to make a proper work as a journalist in this region, and we have called on Russia, Ukraine, the European Union, and the [Organization for Security and Cooperation in Europe] and also the Council of Europe to respond to the appeal that the Moldovan authorities issued [yesterday]. And we hope that they will all use their influence to secure the release of this cameraman as soon as possible."

On 6 September, Mija was preparing to film the seizure of a railway station in the city of Bender-Tighina in Transdniester. The railway was still under the control of officials loyal to the Moldovan government.

Adela Raileanu, head of the news department at Moldova's public television station, said Transdniestrian forces attacked the cameraman, although he was accompanied by Moldovan police, and seized his camera and videotape. "Some 12 plainclothes [Transdniestrian] militiamen beat not only our cameraman [Dinu Mija], but also our policemen. We only know that the camera was destroyed in the process, but we don't know Dinu's condition. We have no details so far," Raileanu said.

The Moldovan government has appealed to the European Union, Russia, Ukraine, and the Organization for Security and Cooperation in Europe (OSCE) to help secure Mija's release.

The incident comes amid increasing tensions between Moldova and Transdniester.

Russian-speaking separatists closed several Romanian-language schools in the enclave earlier this summer, prompting Moldova's government to retaliate by withdrawing from talks with Transdniester and by blocking exports from the region. In response, separatists cut off electricity supplies to southern and central parts of Moldova and blocked some railway lines.

In the latest incident, Transdniestrian militias on 6 September took over the station in Bender-Tighina, 45 kilometers east of Moldova's capital, forcing workers to leave. One employee was injured and another was detained together with cameraman Dinu Mija.

Pro-Russian Transdniester declared independence in 1990 over fears that Romanian-speaking Moldova might seek reunification with neighboring Romania. In the summer of 1992, the two sides fought a short war in which some 1,500 were killed. Moldova and Transdniester have yet to reach a truce agreement, despite decade-long talks under the auspices of Russia, Ukraine, and the OSCE.

Claus Neukirch is the spokesman of the OSCE's mission to Moldova, which has been involved in efforts to jump-start negotiations between the two sides. "The OSCE mission is concerned about the situation in Bender -- that is, after the arrest of a Moldovan television cameraman there and especially after the situation around the railway station in the city," he said.

The Moldovan cameraman's arrest came in the wake of another incident on 4 September, when Transdniestrian militiamen detained a BBC television crew for several hours. The crew was seized while attempting to shoot footage of a Soviet-era munitions dump in the village of Colbasna.

In a statement, Transdniestrian officials accused the BBC team of possibly having engaged in espionage. The statement said the BBC crew "could have been collecting military intelligence for NATO or the United States."

RSF's Soria Blatmann said the latest incidents highlight the dangers faced by both domestic and foreign journalists who are attempting to report from Transdniester. "When you try to go there [it does not matter] that you're a Moldovan journalist or international press," she said. "You cannot do your job freely there, and it's a big problem, and I think that the international community has to worry about it -- now."

Meanwhile, Moldovan news agencies reported that the Council of Europe may discuss the case of Dinu Mija tomorrow, following an appeal by Vasile Sova, Moldova's minister for relations with Transdniester.