Ukraine: U.S. Denies Visa To Key Backer Of Presidential Candidate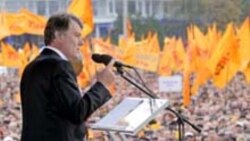 Yushchenko campaigning prior to the first round Two days before Ukraine's runoff presidential election, a U.S. State Department official has confirmed that the United States has denied a visa to Hryhoriy Surkis, a Ukrainian legislator and businessman who is a leading supporter of Ukrainian Prime Minister Viktor Yanukovych in the 21 November vote. The official says the visa rejection was based on a new rule refusing entry to foreigners who corrupt elections. The United States says it believes the Ukrainian government has manipulated the election process in a bid to ensure that Yanukovych defeats the Western-leaning opposition candidate, Viktor Yushchenko.
Washington, 19 November 2004 (RFE/RL) -- A U.S. State Department official says Hryhoriy Surkis was denied a visa on the basis of a new rule that refuses entry to foreigners who are believed to be involved in corrupting an election.
The official, who asked not to be named, told RFE/RL that the rule is not unique to Ukraine. However, in the case of Ukraine, the so-called presidential proclamation has obligated the State Department to scrutinize any federal or provincial officials who apply for a visa.
The diplomat said the Ukrainian officials would include prominent supporters of presidential candidate Viktor Yanukovich, such as Viktor Pinchuk, a parliamentarian and President Leonid Kuchma's son-in-law; Viktor Medvedchuk, Kuchma's chief of staff; Interior Minister Nykola Bilokon; and Prosecutor-General Hennadiy Vasilyev.
In Ukraine's 31 October election, opposition leader Viktor Yushchenko narrowly defeated Yanukovich, who is backed by Kuchma as well as Russian President Vladimir Putin. But a runoff was set for 21 November because neither candidate won a majority of votes in the election, which was declared neither free nor fair by the United States as well as European and other election observers.
Georgeta Pourchot, an analyst of Eastern European affairs at the Center for Strategic and International Studies in Washington, told RFE/RL that despite the interest in the Sirkus case, U.S. denials of visas are common for Ukrainian officials, and that Kyiv has learned to live with them.
"They [U.S. administration officials] could be sending a signal, but Ukrainians are so used to this particular signal. For instance, this is not the first [Ukrainian] guy who was denied a visa under that same prerogative, and Ukraine didn't pay any attention to it," she said.
Pourchot believes Bush is unlikely to take a hard line against Ukraine, mainly because Kuchma has sent about 8,000 troops to help U.S. forces in Iraq.
In Pourchot's opinion, U.S. administrations have rarely put much up much resistance to alleged Ukrainian corruption. She said this goes back to the administration of President Bill Clinton in the 1990s and seems to persist under President George W. Bush. But she said there is still a possibility that the Bush administration may react more vigorously to allegations of official wrongdoing in Ukraine.
"I wouldn't read too much into the visa issue. Now if we see something more significant, like a wave of messages saying, 'Make sure that the runoff [election] is fair and square,' if I see that [national security adviser Condoleezza] Rice goes there -- if I see something more substantial like that, then, yeah, I'm going to say, 'Well, they're really paying attention,'" Pourchot said.
Still, Pourchot believes Bush is unlikely to take a hard line against Ukraine, mainly because Kuchma has sent about 8,000 troops to help U.S. forces in Iraq. The analyst said Bush has already suffered too many defections from his small military coalition in Iraq and would not want to lose another ally.
Yanukovych's supporters have been accused of intimidating voters and keeping the media from providing equal campaign coverage. They also are accused of interfering with the count of first-round ballots.
Analysts say the 21 November runoff amounts to a referendum on Kuchma's scandal-plagued 10 years in office.
[For full coverage of Ukraine's presidential elections, see RFE/RL's Ukraine web page.]