Ukraine: Experts Ponder Possible Outcome Of Election Dispute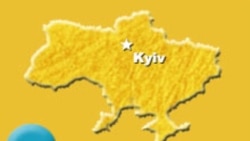 Despite government warnings that any lawlessness will be quickly suppressed, Ukraine's liberal opposition has vowed a campaign of mass street protests and civil disobedience to overturn the results of the controversial 21 November presidential runoff. Regional experts, however, do not anticipate violence. They believe both the government and the opposition will try to seek a peaceful solution to their dispute.
Prague, 23 November 2004 (RFE/RL) -- The latest official returns show that with nearly all ballots counted, Prime Minister Viktor Yanukovych won the 21 November runoff with nearly 49.5 percent of the vote.
But opposition candidate Viktor Yushchenko, who according to the official count received less than 47 percent of the votes, is not conceding defeat.
Instead, the opposition -- which claims the voting was rigged -- is vowing to stage round-the-clock protests in Kyiv and other Ukrainian cities.
In response, the government -- which denies the fraud charge -- is accusing the opposition of contemplating a coup.
But despite the tensions -- and the apparent split between pro-Yushchenko western Ukraine and the pro-Yanukovych eastern regions -- analysts generally believe both sides will try to seek peaceful solutions.
Oleksandr Betsa, program director at the Kyiv-based Vidrozhdennya (Renaissance) nongovernmental think tank, said that despite Kuchma's pledges to not allow any "revolution" take place in Ukraine, he does not expect political developments to take a violent turn.
"To our view it is unlikely that authorities will consider a forceful solution. It is equally unlikely that the opposition will push the authorities into making such a decision. Everyone will rather seek a peaceful outcome," Betsa said. "One possible outcome would be, [for the opposition], to appeal to a court so that election results in those polling stations or constituencies where flagrant fraud was documented are cancelled. But for this to happen, they must first gather evidence showing that such violations did take place."
Members of the Verkhovna Rada met today in an emergency session to assess the political situation.
Speaking by telephone from Kyiv, Adrian Karatnycky, a senior scholar of the Washington-based Freedom House, said that Western countries and organizations may be instrumental in pressing outgoing President Leonid Kuchma to exert restraint in dealing with his opponents.
But he said that ultimately the outcome of the crisis will depend on the determination of Yushchenko's supporters -- particularly to continue with street protests when temperatures are already freezing.
"Winter is approaching. The temperatures are going to drop below zero in the coming days and it will be interesting to see whether or not the Ukrainian people in Kyiv and other cities are going to view [these protests] as a one- or two-day kind of a thing, or whether they will be very persistent in trying to uphold their rights," Karatnycky said.
One of the factors that may influence the determination of the opposition is the stance adopted by the Ukrainian legislature.
Members of the Verkhovna Rada met today in an emergency session to assess the political situation. However, opposition deputies failed to gather a quorum of 226 legislators that would have allowed them to move a no-confidence motion against the Central Election Commission.
Still, Betsa insisted before that session took place that more and more deputies were declaring support for the liberal opposition.
"We know that the number of those who [in the parliament] support the opposition is growing," Betsa said yesterday. "Parties or deputies who were previously holding a centrist position now see that there were vote violations. If more than 50 percent of deputies declare themselves in support of the opposition, the legislature will be a more efficient force and will find itself in a better position to initiate any decision regarding the recognition of this election. The speaker of the parliament, [Volodymyr Lytvyn], has already strongly criticized the use that has been made of the country's administrative resources [during this election], and we know that he will press those deputies that are still hesitating to behave as people's representatives and act in accordance with the constitution."
One way the government might seek to defuse political confrontation could be to try to co-opt opposition leaders and convince them to join a coalition cabinet.
Karatnycky of Freedom House said that such plans are being seriously considered by the Kuchma administration. However, he believes the opposition is unlikely to accept the offer.
"I've spoken with high-ranking [government] officials on the eve of [the runoff] and they basically gave me this scenario [under which] Yanukovych would win with two or four percent and they would need to have a coalition government because the country is divided. [But] I think that in the mood that currently exists, this is not likely," Karatnycky said. "I don't think the mood right now is for that kind of compromise on the part of these leaders. Knowing what I know about the opposition, there is no discussion of that kind at all right now."
Betsa of Vidrozhdennya also does not see any efforts at co-opting the opposition succeeding at the present stage.
"A coalition government is out of the question because it is up to an elected president to make such a move. As long as the opposition does not recognize the president as legitimate, then the chances are that it will refuse to enter any government," he said. "Only at a later stage can this option be considered."