Yushchenko Vows No Retaliation If Victorious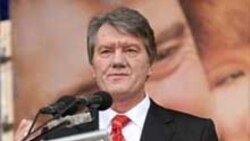 No paybacks from Yushchenko (file photo) 10 December 2004 -- Ukraine's opposition presidential candidate Viktor Yushchenko today promised not to retaliate with political persecution against his opponents if elected in the country's 26 December repeat presidential runoff.
Yushchenko made the statement in Kyiv, during his first news conference since parliament voted on 8 December to change electoral laws to avert fraud and transfer some presidential powers to parliament.
Yushchenko said he "will never pursue the policy of persecution and retaliation" if he defeats Prime Minister Viktor Yanukovych, the winner of the 21 November election annulled by the Supreme Court.
Meanwhile, life is returning to normal in central Kyiv as most of Yushchenko's supporters have ended street protests that began after the disputed poll. Several hundred Yushchenko supporters remain outside the office of outgoing President Leonid Kuchma.
(AFP/Reuters/AP)
Related:
"Frequently Asked Questions"
about the Ukrainian crisis
"Politicians To Watch"
as events unfold

For more RFE/RL coverage and analysis of the political crisis in Ukraine, click here.