Ukraine: Marathon Election Heading Toward 26 December Resolution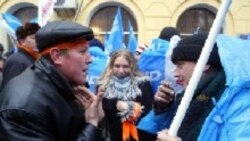 Supporters of the two candidates face off in Kyiv Ukraine's marathon presidential election process has already triggered an "Orange Revolution" and shattered the mould of the country's postcommunist politics. On 26 December it enters its decisive phase with the rerun of an election last month that was declared massively fraudulent by the opposition and international monitors. Ukraine's Supreme Court agreed the vote had been heavily distorted in favor of the government candidate, Prime Minister Viktor Yanukovych, and ordered a fresh election. The vote pits opposition leader Viktor Yushchenko, who advocates Ukraine's entry into NATO and the European Union, against Yanukovych, openly backed by the Kremlin, to replace the outgoing Leonid Kuchma.
Kyiv, 23 December 2004 (RFE/RL) -- Opposition leader Viktor Yushchenko told tens of thousands of supporters in the center of the Ukrainian capital, Kyiv, yesterday that although he believed the tide had turned against the government, the election on Sunday (26 December) would not be an easy matter.
He urged them to cast their ballots, keep an eye on polling stations, and to be on their guard against opponents he said may try to disrupt the vote. "Everyone must come out [to the polls] so that the result is totally convincing, so that there is no temptation to cheat or disrupt the ballot," he said.
The opposition says that it suspects that government forces, now facing the likelihood of defeat, may try to wreck the election by using violence or openly stuffing ballot boxes.
Under Ukrainian law, incumbent President Leonid Kuchma could remain in power until the result of new elections -- five months hence.
Hryhoriy Omelchenko, an opposition parliamentarian and former colonel in Ukraine's intelligence forces, claims to have evidence that automatic rifles and other weapons have been distributed to criminal groups linked to politicians in Yanukovych's east Ukrainian support base in the city of Donetsk.
That report could not be independently confirmed, but Omelchenko said he believes any violence could be used as an excuse to nullify the vote.
The opposition hopes another guarantee of a fairer vote will be the large number of foreign and Ukrainian election monitors on hand.
The vote has been cast in historic terms. Many politicians and observers say that if Yushchenko wins, Ukraine will make a turn toward the West. They say a major change in policy like this could doom Russian President Vladimir Putin's ambition to build a new Moscow-led economic union comprising Ukraine, Belarus, Kazakhstan, and Russia.
The flawed 21 November election brought hundreds of thousands of demonstrators, with flags, ribbons, and articles of clothing in Yushchenko's orange campaign colors, into the center of Kyiv and other cities.
Yanukovych has tried to rally his supporters by casting the demonstrators as carrying out a "coup d'etat." Addressing a rally of supporters in the southern city of Kirovohrad, Yanukovych repeated that he wants closer ties with Russia. He said he would introduce Russian as a second state language and offer dual Ukrainian-Russian nationality.
"I want you to know that those people who come out to vote for the 'orange coup' in this election are voting against the Ukrainian people. They are acting against those who should be the real owners of Ukrainian land," Yanukovych said.
Yanukovych said tens of thousands of his supporters are prepared to converge on Kyiv if he does not win.
Last month, after the Supreme Court declared the 21 November election fraudulent, the opposition forced through parliament a package of measures designed to limit the scope for cheating on 26 December.
The former head of the Central Election Commission and the prosecutor-general, both accused of colluding in the fraud, were removed. The law has been changed to curb the use of false absentee voter documents to vote multiple times in different polling stations. This was alleged to have given the government candidate 3 million extra votes.
The opposition hopes another guarantee of a fairer vote will be the large number of foreign and Ukrainian election monitors on hand.
Finnish member of parliament Kimmo Kiljunen, a former vice president of the Organization for Security and Cooperation in Europe (OSCE) Parliamentary Assembly, believes the 26 December election will be more honest than the previous ones.
"We should have now fair elections in Ukraine. Now we do have more hope than before and the major reason for the hope, obviously, is that there have been certain changes in the legislation in Ukraine. The absentee voting system is different than [it was] before. Very important, obviously, is that there are certain guarantees that in the electoral committee there are supposed to be observers and representatives from both sides," Kiljunen said.
Yushchenko, whose face remains badly disfigured by dioxin poisoning he blames on the authorities, predicts he will receive at least 60 percent of the vote.
[For more RFE/RL coverage and analysis of the political crisis in Ukraine, click here.]