Last Day Of Ukraine's Presidential Campaign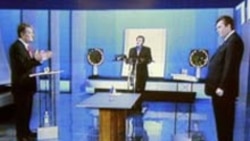 Yushchenko and Yanukovych facing off in 21 December debate 24 December 2004 -- Ukraine's rival presidential candidates, opposition leader Viktor Yushchenko and Prime Minister Viktor Yanukovych, are making their final appeal to voters today before a repeat of the country's presidential runoff election on 26 December.
Yushchenko is expected to use the last day of legally allowed campaigning to make a televized speech, while Yanukovych is due to campaign in the western city of Uzhgorod.
The poll will be a repeat of the 21 November runoff, which was officially won by Yanukovych but later annulled by the Supreme Court on grounds of fraud. The election dispute resulted in weeks of opposition protests and increased tensions between the West and Russia.
Yesterday, outgoing President Leonid Kuchma described the election as possibly "the most important day in Ukraine's existence."
(AFP/Reuters)
[For more RFE/RL coverage and analysis of the political crisis in Ukraine, click here.]