Central Asia: Riveted by Elections in Georgia, Ukraine, West Largely Overlooks Regional Elections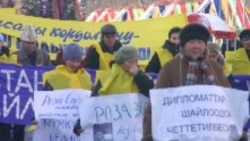 Would the West pay as much attention to protests in Kyrgyzstan? Upcoming elections in Kyrgyzstan and Tajikistan have prompted local fears of vote rigging and electoral fraud. Such scenarios drew widespread Western attention to other former Soviet republics like Ukraine and Georgia. But opposition politicians and other observers in Central Asia say the United States and European Union are far less interested in pro-democracy movements in their region.
Prague, 21 January 2005 (RFE/RL) -- To some politicians and political observers, Kyrgyzstan is starting to look a lot like Ukraine.
The Central Asian republic, due to hold parliamentary elections on 27 February, has seen a rise in political dissent. Opposition rallies have been held in the capital Bishkek demanding free and fair elections. Activists have threatened mass demonstrations if authorities attempt to rig the ballot. Government leaders, in turn, have warned the opposition may attempt to forcibly seize power if the election outcome is not in their favor.
The situation was much the same during the past several months in Ukraine, where allegations of widespread voter fraud in the country's presidential election sparked massive public protests, Supreme Court intervention, and ultimately the victory of the opposition candidate, Viktor Yushchenko.
Georgia's "Rose Revolution," similarly, saw President Eduard Shevardnadze ousted and replaced by pro-Western politician Mikheil Saakashvili following voter scandals and public demonstrations.
But observers see one key difference between Kyrgyzstan and those other countries -- one that may prevent a similar outcome in the Kyrgyz parliamentary vote next month. It is the comparatively low level of interest and attention from the West.
If the West is unwilling to exercise influence in the region, one analyst says, there are a number of radical forces waiting to fill the gap
Michael Hall works with the International Crisis Group (ICG), a nonprofit organization seeking to prevent and resolve conflicts in many of the world's troubled regions. Hall, who is based in the Tajik capital Dushanbe, said geography is to blame for the lack of Western engagement in the region's electoral politics.
"I don't think they are paying nearly as much attention to [Central Asia] they did to Ukraine. I think geography has to play a part of this. Quite naturally, the European Union, for instance, is going to be much more interested in what is happening right next-door than things that are happening in a very distant -- and I guess, for them, rather obscure -- part of the world. As for the United States, I think they will be watching. The problem for the U.S., though, is that for U.S. foreign policy -- especially as far as parts of the Islamic world are concerned -- I think Iraq is going to occupy all of their attention," Hall said.
Tajikistan, like Kyrgyzstan, is holding parliamentary elections on 27 February. But the opposition movement there has been more muted, with activists saying the country's five-year civil war (1992-97) makes it unlikely Tajiks would be drawn in large numbers to pro-democracy demonstrations.
But Tajik opposition leaders say they need support from the West all the same. Rahmattuloh Valiev is deputy head of the Tajik Democratic Party. "I think Western nations should support the democratic process in all countries, through international bodies such as the United Nations, the OSCE [Organization for Security and Cooperation in Europe], and other financial and democratic institutions," Valiev said. "It is absolutely important that international and Western groups provide support in increasing our people's political awareness."
OSCE officials in Europe and Central Asia say they devote equal attention to each of their member states. And the OSCE and Central Asian opposition leaders are in agreement that the international community can aid political reform in the region by supporting civil society and democratic institutions.
But Sanya Sagnaeva, a political expert in Bishkek, told RFE/RL that Western countries don't always give the kind of support that is needed. "Most of the time, Western participation simply repeats itself," she said. "For instance, seminars and training by the [U.S.] National Democratic Institute or the [U.S.] International Republican Institute or the OSCE -- these things are all the same. Some of the people who participate in their election-related seminars and training say the sessions just repeat each other, and that they don't have much effect or value."
The OSCE's Office for Democratic Institutions and Human Rights is sending observers to monitor the parliamentary votes in Kyrgyzstan and Tajikistan, much as it did in Ukraine and elsewhere.
But observers say Western interest ends there. The election-fraud scandal in Ukraine drew international attention and warnings from U.S. President George Bush, then-Secretary of State Colin Powell, and a number of EU officials. Georgia's Rose Revolution was also the focus of international attention.
The global community, by contrast, has been notably silent regarding similar setbacks to the opposition movement in Kyrgyzstan and Tajikistan.
In the past year in Tajikistan, authorities have effectively muzzled most of the country's independent newspapers. Members of the opposition Democractic and Socialist parties say changes in electoral laws -- including a $500 registration fee -- have made it virtually impossible for their candidates to participate in the ballot.
The situation is similar in Kyrgyzstan, where a number of opposition candidates, including popular favorite Roza Otunbaeva, have been barred from the election. The Kyrgyz parliament this week cleared the way for Otunbaeva's participation after demonstrations staged by her supporters. But it remains unclear whether she will ultimately be permitted to run.
Michael Hall of the ICG said the lack of Western engagement could have a negative, possibly even dangerous, effect on the political future of Central Asia. If the West is unwilling to exercise influence in the region, he said, there are a number of radical forces waiting to fill the gap.
"If all the legal avenues for dissent, all the legal avenues for protest or even for debate are being shut down, then that opens up other avenues. There are other people waiting who I think would be perfectly happy to take advantage of this. I am thinking of Islamic radical groups such as Hizb ut-Tahrir, which is quite influential in the region. So, the danger -- for the West and for the countries involved -- of an erosion of democracy is possible increased support for more radical groups for whom democracy also isn't part of the game plan," Hall said.
There is one outside nation watching the Central Asian elections with interest -- Russia. Moscow and Washington have wrestled for influence in the region in recent years. But, Russia's keen attention to the Central Asian ballots may give it the upper hand -- and deal a blow to the region's pro-democracy movement in the process.
See also:
"Nipping Orange Roses In The Bud -- Post-Soviet Elites Against Revolution"