Kazakhstan: UN Terrorism Committee Meets In Almaty Amid Warnings Over Human Rights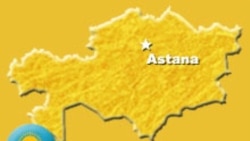 The UN Security Council's Counter-Terrorism Committee (CTC), created in the wake of the 11 September 2001 attacks, is meeting in the Kazakh city of Almaty. The three-day regional conference, which began yesterday, is focusing on Central Eurasia, which has faced a threat from Islamic militancy in recent years. Particular focus is being paid to the financing of terrorism and at ways to step up regional efforts to crack down on money laundering, arms trafficking, illicit fund transfers, and fake charities. Meanwhile, Human Rights Watch is calling on the UN body to bring antiterrorism efforts in line with human rights.
Prague, 27 January 2005 (RFE/RL) -- Russia's ambassador to the UN, Andrei Denisov, who currently chairs the UN's Counter-Terrorism Committee, spoke yesterday about the goals of the conference.

"The reality is that the threat of terrorism cannot be eradicated completely in the near future. It will continue to reproduce itself one way or the other. But nations can and should make every effort to limit the opportunities for this threat to realize itself, and this is what we are doing, and this is what we are going to discuss during our [three-day] conference," Denisov said.

Denisov said "terrorism has deep roots in Central Asia" and that stability in the region is crucial for global security.

Kazakh President Nursultan Nazarbaev reiterated that theme in his remarks at the opening of the meeting.

"Kazakhstan's national security is closely linked to the security of the Central Asian region. And security in Central Asia should be considered an integral component of security in [Eurasia]. The Central Asian region should be part of a Eurasian security system that is part of a global security system," Nazarbaev said.

Vladimir Rushailo, the top official of the Commonwealth of Independent States, warned that recent attacks in Russia and Uzbekistan were part of a global terrorist threat.

The Islamic Movement of Uzbekistan (IMU), is one of the two best-known radical Islamic groups in Central Asia, along with Hizb-ut-Tahrir, which, unlike the IMU, is staunchly nonviolent.

In the late 1990s, the IMU -- sponsored by Afghanistan's Taliban regime -- began extending its reach into Tajikistan and Kyrgyzstan and calling for the overthrow of the region's governments.

The U.S.-led invasion of Afghanistan in late 2001 was seen as having crippled the IMU, but it is one of the suspects behind recent attacks in Uzbekistan.

At the CTC meeting in Almaty, the head of the CIS Antiterrorism Center (ATC), Boris Mylnikov, announced a list of terrorist organizations assembled by member states of both the Collective Security Treaty Organization and the Shanghai Cooperation Organization.

The deputy head of the ATC, Beksultan Sarsekov, said in an interview with the daily "Komsomolskaya Pravda-Kazakhstan" that Hizb-ut-Tahrir, as well as some "extremist Uyghur organizations," pose a threat to Central Asia. He noted, however, that Hizb-ut-Tahrir has renounced the use of violence in its campaign for an Islamic caliphate.

Human Rights Watch (HRW) has sent an open letter to the CTC, calling on member states to affirm that protecting human rights is essential to the fight against terrorism.

Rachel Denber is acting director for Europe and Central Asia at HRW. She tells RFE/RL that the protection of human rights is an obligation of all UN member states and that human rights violations undermine security.

Denber says Central Eurasia is a region of particular concern.

"Central Eurasia is a region that has increasingly faced threats of terrorism. It is a very important region for global security. And yet it is a region that is home to many governments that do not have good human rights records, that are not convinced of the need and importance of protecting human rights while at the same time combating terrorism," Denber says.

HRW mentioned Russia and Uzbekistan, where she says the governments' "egregious human rights violations" have undermined effective counterterrorism strategies.

There also have been concerns about Kazakhstan's human rights record, particularly the authorities' treatment of radical Muslims and their readiness to return fleeing Muslims to western China's Xinjiang region, where they face possible execution.

Denber says the UN Counter-Terrorism Committee has been slow to recognize the importance of human rights in fighting terrorism and is developing a consensus only now.

Eugene Huskey is a professor of political science of Stetson University in the southern U.S. state of Florida and an expert on Central Asia.

"In countries in Central Asia, it is very common to have the leadership link -- or try to link -- the opposition with terrorism, even though, of course, there is no linkage between the two. There is the claim in electoral campaigns and at other times that the actions of the opposition are playing into the hands of the terrorists and other extremists in these countries. And this, of course, is a very dangerous kind of decision for leaders to take -- or I should say, of course, very undemocratic," Huskey says.

The vague definition of terrorism contributes to the problem. Usually, it is up to each government to make a list of terrorist organizations whose activity is banned in an individual country. Therefore, there is always a possibility for authorities to include opposition groups in the list.

Huskey believes the United Nations can play an important role in solving the problem.

"Here there is an important role for an organization like the UN or regional organizations where there can be a clearer sense of who qualifies as a terrorist. If you leave it up to the individual countries, there is the danger that they will simply find convenient opposition organizations within their countries that they'll put on their terrorist lists. So I think the internationalization of this issue would be very helpful for human rights purposes," Huskey says.

The Almaty conference is cosponsored by the Commonwealth of Independent States and is the fourth meeting of the CTC. Previous meetings were held in New York, Washington, and Vienna.

Representatives from the European Union, NATO, African Union, Asian Development Bank, the Organization for Economic Cooperation and Development, and the League of Arab States are attending the talks.