Outgoing Kyrgyz Parliament Appoints New Leaders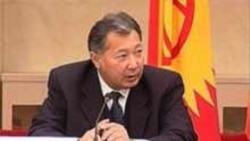 Kurmanbek Bakiev says he has been named acting president and prime minister. (file photo) 25 March 2005 -- Kyrgyzstan's outgoing parliament is due to resume an emergency session later today after appointing opposition leaders to president, prime minister, and national security director overnight.
The outgoing parliament named Ishenbai Kadyrbekov as interim president to replace Askar Akaev, whose location remains unclear. The parliament also reinstated Kurmanbek Bakiev as interim prime minister.
However, Bakiev today said parliament has named him acting president, as well. He told crowds of supporters in Bishkek today that he would seek to form a government.
In Washington, Kyrgyz ambassador to the U.S. Baktybek Abdrissaev said Akaev has not resigned. He did not give Akaev's location, but said he is "safe."
"I have no information about his location, but he is in a safe place," Abdrissaev said.
Kyrgyz national television reported that three people died during turmoil and looting overnight. More than 170 were reported hospitalized with injuries, but the reports have not been officially confirmed.
Also yesterday, protesters freed former vice president Feliks Kulov from prison, where he had been serving 10 years for embezzlement and abuse of power. Parliament later appointed him national security director.
The former parliament met hours after the supreme court annulled last month's parliamentary polls as fraudulent. The decision came after weeks of protests across the country against the elections.
(With agency reports)
Related:

Opposition In Firm Control In Kyrgyzstan

Will Opposition Leader Bakiev Be Kyrgyzstan's Next President?

Neighboring Opposition Movements Keep Close Eye On Kyrgyz EventsPhoto Gallery: How The Protests Unfolded In The SouthFor more background on the crisis in Kyrgyzstan, see RFE/RL's dedicated website Kyrgyzstan Votes 2005