Kyrgyz Parliament Accepts Akaev's Resignation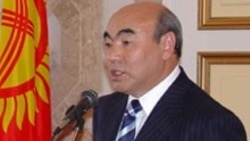 Askar Akaev (file photo) 11 April 2005 -- Kyrgyzstan's parliament voted today to accept the resignation of ousted President Askar Akaev and set 10 July as the date for presidential elections.
Akaev resigned on 4 April but remained technically in power until the parliament vote.
Akaev fled to Moscow on 24 March when protesters, angered by a flawed parliamentary poll, ransacked his offices and the opposition seized power. (see
Photo Gallery: Bishkek, 24 March -- A Day In Pictures
)
His resignation is seen as a key step towards restoring stability in the Central Asian state.
(Reuters/AFP/AP)
For more background on the crisis in Kyrgyzstan, see RFE/RL's dedicated website Revolution In Kyrgyzstan