Kyrgyz Party Head Withdraws From Presidential Race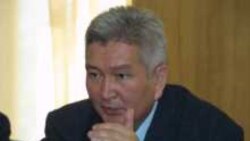 Feliks Kulov (file photo) Washington, 17 May 2005 (RFE/RL) -- Acting President Kurmanbek Bakiev issued a decree on 16 May naming Feliks Kulov, the leader of the Ar-Namys party, first deputy prime minister, RFE/RL's Kyrgyz Service reported.
The appointment followed reports that Kulov had agreed to withdraw from the 10 July presidential elections in exchange for the post of prime minister in a possible Bakiev government. Kulov would reportedly have difficulty passing the examination before the Central Election commission of his fluency in Kyrgyz, required of all candiidates for president.

Observers noted that with plans afoot to expand the prime minister's powers, the move could position Kulov to play a key role in the country's political future.