The Film That Shook Belgrade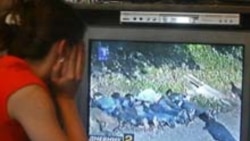 Recent videos, particularly of killings at Srebrenica, have shocked many across former Yugoslavia A previously unreleased film was made at the start of April 1995 in the Cazinska Krajina region of western Bosnia during the campaign against the 505th Brigade of the mainly Muslim Army of Bosnia-Herzegovina. The Belgrade nongovernmental Humanitarian Law Fund came into possession of the video (in addition to the now famous one showing killings near Srebrenica in 1995).
The film shows members of the elite Serbian paramilitary police unit known as the Scorpions, who were then fighting on the side of local kingpin Fikret Abdic. The video presents the radio communications between units on the front line and the Serbian command post, where the Scorpions' commander Slobodan Medic and the paramilitary Red Berets' commander Milorad Ulemek (aka Legija) are.
In the course of the video, Medic and Legija respond to a question from their subordinates as to what to do with their captives. They tell them to free the captives so as to make it look like an attempted escape.
(The following is full of coarse language. RFE/RL decided to publish the transcript because of its worth as a historical document.)
Watch the video (in Windows Media)
"I ought to send you a team here to take...[the ones] from 505."
"Good."
"No, I hope...screw you."
"F*** your mother's c***."
"Which fools are those, in your mother's c***. Who will take [them] there, screw your mother."
"Idiot, I can't...idiot."
"Go call Azem to send [them] quickly."
"Where, near Mt. Grmec [in western Bosnia]?"
"Yeah."
"Near Mt. Grmec to a secret place to receive the package."
"Screw the package, c***."
"It's necessary to kill all of them...all of them."
"But f*** you, how should we drive that bunch out?"
"Hurricane, report."
"What do you want?"
"Hurricane, report."
"I'm listening."
"Well, we only need one thing."
"Well, screw. Good. I've solved the problem."
"Vasko..."
"Make it look like an escape attempt."
"Vasko..."
"And send them there to remove mines."
"Get Eagle."
"And send...."
(Report originally by RFE/RL's South Slavic and Albanian Languages Service. Translated by Patrick Moore)