Iraq Marks Anniversary Of Sovereignty Transfer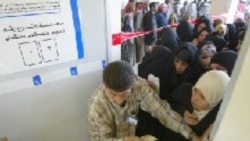 Voters casting their ballots in Al-Najaf on 30 January (file photo) 28 June 2005 (RFE/RL) -- Today marks the first anniversary of the transfer of formal sovereignty from the U.S.-led coalition to an Iraqi government.
Ahead of the anniversary, Iraqi Prime Minister Ibrahim al-Ja'fari said during a visit to London on 27 June that he believes two more years will be
"more than enough" time
for security to be established in Iraq.
"I think two years will be enough and more than enough to establish security," al-Ja'fari said.
Al-Ja'fari, who took power following intensive negotiations to form a government after 30 January elections, said the development of Iraqi security forces and greater help from Iraq's neighbors to secure the country's borders will be vital to defeating the militants.
U.S. President George W. Bush is due to deliver what his aides say will be a major speech on the situation Iraq later today at the Fort Bragg army base in North Carolina.
U.S. Defense Secretary Donald Rumsfeld said on 27 June that he believes the insurgents in Iraq are losing the conflict. He said the insurgents have little to show for their operations except a growing count of dead Iraqi civilians.
L. Paul Bremer
handed over power
to Iraqi leaders one year ago in his final decree as head of the U.S.-led Coalition Provisional Authority (CPA).
(Reuters/AP/AFP)