Shanghai Group Head Blames Terrorists For Andijon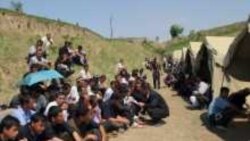 Uzbek refugees from Andijon in Kyrgyzstan (file photo) 1 July 2005 (RFE/RL) -- Secretary-General Zhang Deguang of the Shanghai Cooperation Organization (SCO) says that bloody unrest last month in the Uzbek city of Andijon resulted from a terrorist plot.
Zhang spoke at a news conference in Beijing today ahead of a 5-6 July summit in Astana of the Shanghai organization, which groups China, Russia, Kazakhstan, Kyrgyzstan, Tajikistan, and Uzbekistan.
"We take the situation in Kyrgyzstan and Uzbekistan very seriously," Zhang said. "We really take it to heart because it touches on the security, stability, and development of this region. It also touches on cooperation within the SCO, so we really pay close attention to it."
The West has criticized the Uzbek government's handling of the demonstrations in Andjan. Uzbek opposition groups and human rights activists say that more than 700 people -- mostly unarmed civilians -- were killed in the confrontation.
Uzbek authorities say that armed agitators with assistance from abroad engineered the uprising in a plot to overthrow the government.
(AP)
See also:

Russian Minister 'Knows' Foreigners Planned Uzbek Uprising

For RFE/RL's full coverage of the recent violence in Uzbekistan, see "Unrest In Uzbekistan"