Massive Explosives Found At Srebrenica Memorial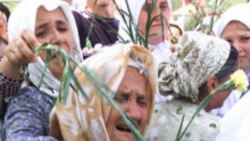 Bosnians mourning the victims of Srebrenica (file photo) 5 July 2005 -- 5 July 2005 (RFE/RL) -- Massive explosive charges have been found near the Srebrenica massacre memorial, just days before the start of ceremonies marking the 10th anniversary of the killings.
Radovan Pejic, a police spokesman in the Bosnian Serb entity, said that two charges of plastic explosives and TNT were discovered on a road about half a kilometer from the Potocari memorial. He said one of the packages contained 30 kilograms of explosives.
The discovery came just three days ahead of the "March of Death" from Potocari to Srebrenica, in eastern Bosnia, which would follow the route where some 8,000 Muslim boys and men were shot while trying to run from Serb forces in 1995.
The central ceremony at the memorial site is set to take place on 11 July.
In July 1995, Serbian forces overran Srebrenica, which had been declared a UN "safe area." They separated some 8,000
Muslim men and boys from their families and later executed them.
It is widely considered to have been the worst atrocity in Europe since the Holocaust.
(AFP/AP/dpa)
Related Stories:
The Film That Shook Belgrade
Belgrade's Ambiguous Response To Srebrenica
Ten Years After Srebrenica
Srebrenica Timeline