China Seeks To Build Regional Influence At Summit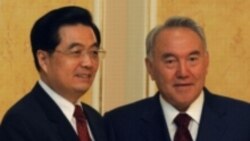 Kazakh President Nursultan Nazarbaev (R) with his Chinese counterpart, Hu Jintao 5 July 2005 -- The leaders of Russia, China, Kazakhstan, Kyrgyzstan, Tajikistan, and Uzbekistan met today in Astana for a summit of their regional security group, the Shanghai Cooperation Organization.
The summit highlights China's continuing efforts to build influence in Central Asia -- and gain greater access to its energy resources -- by making common cause with Russia and the Central Asian states against militant groups.

Beijing, the major force behind the SCO, has poured more resources into maintaining it than have any of the other member states. And often, Beijing has found itself trying to push the others along in its efforts to develop the SCO into a major regional alliance.

Niklas Swanstrom is a regional expert and director of the Silk Road Studies Program at Uppsala University in Sweden. He puts China's situation this way.

"What the Chinese are hoping for is to strengthen the Shanghai Cooperation Organization. The Russians have not been very eager to participate and the Uzbeks have not been very eager to participate, either, because the Uzbeks feel the Shanghai Cooperation Organization is decreasing their influence as the strongest state in Central Asia. The Russians are saying, 'why should we deal with them multilaterally when we can deal with the Central Asian states bilaterally?'" Swanstrom said.

The analyst says China has two main purposes in trying to strengthen the SCO, which was originally founded as the "Shanghai Five" in 1996.

He says one goal is to assure stability in a region that Beijing would like to make a major source of oil and gas for its own growing but energy-hungry economy.

"If Central Asia is unstable, Chinese access to oil and gas will be more problematic and, of course, it is more crucial in Kazakhstan than in any other [Central Asian] state," Swanstrom said.

A Kazakh oil pipeline to China with up to 20 million tons capacity is due to be completed by 16 December.

To build stability, China wants to cooperate with its SCO partners in combating what all sides view as a regional threat from militant groups.

The SCO members regard the recent 13 May violence in the eastern Uzbek city of Andijon as one example of the threat they face.

China and Russia -- the dominant SCO members -- were among the first to support Uzbek President Islam Karimov's contention that the violence in Andijon was the work of Islamic militants and took no more than 176 lives.

Human-rights groups disagree, saying that at least 500 people, mostly civilians, died in Andijon when troops opened fire on antigovernment protestors. Calls by Western governments for an international inquiry into the events have been rejected by Tashkent.

The analyst says Beijing's second goal in strengthening the SCO is to enlist the Central Asian states' support in combating separatists among its own Turkic-speaking Uighur population in western China.

Swantsrom says Beijing is concerned that Uighur separatist groups may get financial and moral support from sympathizers in Central Asia due to shared ethnic and linguistic links.

"The Chinese suspect, or believe, that the Uighurs are supported by the Central Asian states, not necessarily by the governments but by the population, and there is probably some truth to that, that the Uighurs are seen quite positively in some of the [SCO] member states," Swanstrom said.

Beijing would like to offer the Central Asian states and Russia its support in their fights with militant and separatist groups in exchange for their help in cutting off aid to the Uighur separatists.

But such mutual interests may not be enough to give Beijing as strong a role in Central Asia as it seeks.

Swanstrom says that as part of Beijing's effort to secure access to the region's energy supplies, the Chinese have paid much higher-than-market prices for oil and gas. But the Chinese still find Central Asian governments reluctant to let Beijing draw too close.

"The Chinese have paid ridiculous amounts of money for oil and gas in Kazakhstan, way over market prices, but the Kazakhs and the Central Asians in general are very much afraid that the Chinese will dominate. So, they also would look favorably at some kind of decreased Chinese influence, because they don't want to exchange Russian dominance for Chinese dominance," Swanstrom said.

Today's meeting of the SCO in Astana was the latest chance to measure whether the Chinese can create enough sense of common interest to offset such wariness.

During the summit, the leaders of the six member states signed a formal declaration condemning outside interference in their affairs. The statement was seen as implicit criticism of growing U.S. influence in the region.

Russian President Vladimir Putin said the declaration is based on what he called "the multifaceted nature of civilisation."

"They [the declaration's points] have been drawn up on the basis of our shared views on the need to respect and protect. They reflect our understanding of the multifaceted nature of civilisation and models of development. The declaration calls against imposing models and standards by the threat or use of force," Putin said.

The SCO declaration called on U.S.-led forces to set a date for withdrawing from military bases in Uzbekistan and Kyrgyzstan. It said a date should be announced due to what it called the end of active combat in Afghanistan.