UN Concerned About Arrest Of Uzbek Activist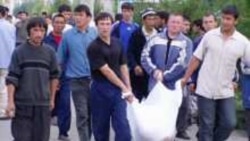 A casualty of the 13 May violence in Andijon (file photo) 5 July 2005 (RFE/RL) -- The UN refugee agency today said it is extremely concerned over the arrest of an Uzbek human rights activist in Kazakhstan, where he fled to escape a crackdown in his homeland.
Ron Redmond, spokesman for the UN High Commissioner for Refugees, the UNHCR, said activist Lutfullo Shamsuddinov and six members of his family have been recognized as refugees by UNHCR since 24 June, one month after they fled Uzbekistan.
Redmond said Kazakh authorities should not obey an extradition request from Uzbekistan for Shamsuddinov because the 1951 Geneva Convention forbids the forced return of refugees and asylum seekers to their country of origin.
"[To return Shamsuddinov to Uzbekistan] is in complete breach of the 1951 Convention for Refugees, which makes it very clear that refugees and asylum seekers cannot be forcibly returned to their country of origin," Redmond's spokeswoman, Marie-Helene Verney, told RFE/RL on 5 July.
Hundreds of Uzbeks fled the country after troops fired on protesters in the town of Andijon on 13 May. Rights groups say the unrest left hundreds dead.
(RFE/Reuters/AP)
See also:

Uzbek Opposition Figure Appeals For Democratization Of Aid