G-8 Summit To Continue Following Bombings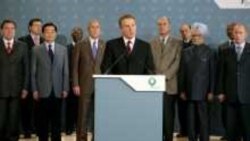 British Prime Minister Tony Blair yesterday making a statement on the London bombings 8 July 2005 (RFE/RL) -- The summit of the Group of Eight (G-8) leading industrialized countries ends today in Scotland, with the 7 July bombings in London set to overshadow the proceedings.
British Prime Minister Tony Blair is back to host the Gleneagles summit after returning to London in the wake of the attacks.
The leaders are due to discuss ways to tackle global warming and to provide more assistance to Africa. They are expected to call for urgent action to combat global warming but set no measurable targets.
The leaders are also expected to issue a statement on fighting terrorism. The document had been planned before the summit, but reports say it will now be modified to reflect the events in London, where at least 37 people were killed.
The G-8 comprises the United States, Britain, Russia, Italy, Japan, Canada, France, and Germany.
(Reuters/ITAR-TASS)
See also:

London Explosions Interrupt G-8 Summit

Police Say 37 Dead In London Blasts