Police Say London Death Toll Now Exceeds 50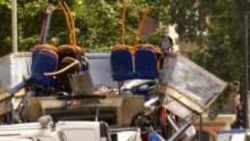 Wreckage of the bombed London bus on 7 July 8 July 2005 (RFE/RL) -- Police in London say the death toll from the 7 July bomb blasts in the British capital has risen to more than 50.
London police chief Ian Blair also told a news conference in London that the attacks bore all the hallmarks of the Al-Qaeda terror network.
He said he expects the death toll to rise as there are bodies still trapped in the subway system:
"The Tube [subway] train at Russell Square still contains a number of bodies which have not yet been retrieved, and we do not know how many there are there," Blair said.
Blair also confirmed four bombs hit three subway trains and a bus during the 7 July morning rush hour.
He said there is nothing to suggest suicide bombers were involved, and urged the public to remain vigilant and come forward with any information.
Earlier, British Home Secretary Charles Clarke warned that the bombers could strike again.
(compiled from agency reports)
b>See also:
London Explosions Interrupt G-8 Summit
Europe Proving To Be A Growing Base For Al-Qaeda