U.S. Says Zarqawi Operative Captured In Iraq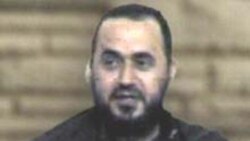 Abu Mus'ab al-Zarqawi (file photo) 13 July 2005 (RFE/RL) -- The United States' top general says American forces in Iraq have captured a person described as a key operative for the Al-Qaeda group in Iraq led by Abu Mus'ab al-Zarqawi.
Air Force General Richard Myers, the chairman of the Joint Chiefs of Staff, announced on U.S. television the capture of Abu Abd Al-Aziz.
Myers called him al-Zarqawi's main leader in Baghdad, and said his capture would "significantly" hurt al-Zarqawi's operations.
The U.S. military chief said Al-Aziz was captured on 11 July "on the battlefield," but gave no other details.
The Al-Qaeda Organization for Holy War in Iraq has claimed responsibility for some of the deadliest attacks targeting U.S. and Iraqi government forces and Shi'ite Muslims.
For RFE/RL's full coverage of developments in Iraq, see "The New Iraq"
(Reuters/AFP)