Musharraf Appeals To Pakistan To Reject Extremism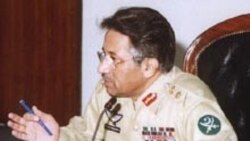 President Musharraf (file photo) 21 July 2005 -- Pakistani President Pervez Musharraf today strongly condemned the 7 July bombings in London, saying he did not believe the perpetrators of such acts can be called human beings.
"We very strongly condemn this act of terrorism [on 7 July in London]. I don't think the perpetrators of this act can be called human beings. We stand together in this struggle, in the fight against terrorism right to the end, until will emerge victorious against them and we eliminate them," Musharraf said.
In a televised address, Musharraf also appealed to his nation to reject extremism and support the government in the fight against terrorism.
Reports say authorities have detained several hundred people in widespread raids on private homes, Islamic schools, and other locations.
The government roundup comes amid reports that the London terror bombers had links with possible extremist circles in Pakistan.
(AP)
Related:

New London Explosions Follow Deadly Attacks By Two Weeks

Britain Searches For Response To London Bombings