Rumsfeld Told U.S. Can Keep Kyrgyz Base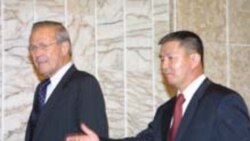 Rumsfeld meeting with acting Kyrgyz Defense Minister Ismail Isakov on 26 July 26 July 2005 (RFE/RL) -- The Kyrgyz defense minister says the United States can maintain its air base in the country for as long as the situation in nearby Afghanistan requires.
Major General Ismail Isakov made the comment after meeting with visiting U.S. Defense Secretary Donald Rumsfeld.
The U.S. set up the base in 2001 to aid in the U.S.-led war in Afghanistan. It maintains around 1,000 personnel there.
The base's future had been called into question after Kyrgyzstan and some neighboring countries said the United States should set a timetable for withdrawing from its bases in Central Asia.
Rumsfeld also met on 26 July with Kyrgyz President-elect Kurmanbek Bakiev. Rumsfeld is due later today to visit Tajikistan for talks with that country's leaders.
(AFP/AP)
See also:

Rumsfeld: Loss Of Kyrgyz Air Base Would Not Harm Operations