Bishkek Assures Rumsfeld That U.S. Air Base Can Stay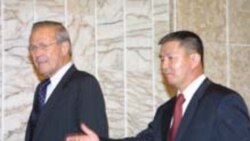 Acting Defense Minister Isakov (right) with Rumsfeld Prague, 26 July 2005 (RFE/RL) -- U.S. Defense Secretary Donald Rumsfeld's talks today in Bishkek resulted in a pledge by Kyrgyzstan's defense minister that the United States can maintain its air base in Kyrgyzstan as long as needed for its operations in Afghanistan.
After the future of the Ganci base was placed in doubt when Kyrgyzstan called on the U.S. to set a deadline for its withdrawal, U.S. defense officials came prepared to argue that antiterrorism operations in Afghanistan are far from over.
In the end, their Kyrgyz counterparts appeared to agree.
Following a press conference following today's talks with Rumsfeld, Kyrgyzstan's acting defense minister, Ismail Isakov, told RFE/RL's Kyrgyz Service that Afghanistan remains a key concern.
"In reality, there is no reason to say that the [security] situation has improved," Isakov said. "The terrorist attacks in London, Egypt and also in Afghanistan itself prove that. That is why it is only after the situation has improved that this issue [of closing the Ganci base] will be considered by the two sides in accordance with agreements between Kyrgyzstan and the United States alone."
The U.S. military presence in Kyrgyzstan dominated Rumsfeld's talks with Isakov and Kyrgyz President-elect Kurmanbek Bakiev.
Bakiev and Rumsfeld also discussed closer bilateral ties on defense technology issues.
The Pentagon chief said Bishkek and Washington would continue to cooperate in the fight against terrorism and extremism.
"The United States will also continue to work with the (Kyrgyz) government here to confront violent extremism," Rumsfeld said. "We value the military-to-military relationship, the cooperation we have on security issues, and the global war against violent extremists."
Rumsfeld's visit comes after a recent call by the Shanghai Cooperation regional grouping for the United States to give a deadline for the closure of its air bases in Kyrgyzstan and Uzbekistan.
The Shanghai Cooperation Organization, or SCO, groups four Central Asian states, as well as China and Russia.
Moscow and Beijing, who maintain their own interests in Central Asia, were seen as being behind the deadline demand.
Rumsfeld, however, declined to speculate on what the SCO had in mind.
Rumsfeld's visit comes after a recent call by the Shanghai Cooperation regional grouping for the United States to give a deadline for the closure of its air bases in Kyrgyzstan and Uzbekistan.
"I don't really know," Rumsfeld said. "I wasn't at the meeting. We are not a member of that organization. And I don't know what their motives might have been."
The United States first deployed troops in the two Central Asian states in the wake of the 11 September 2001 terrorist attacks. The bases were used to support antiterrorism operations in neighboring Afghanistan.
The Ganci base near Bishkek currently hosts close to 1,000 military personnel from the U.S. Air Force.
Rumsfeld had earlier said the Pentagon could bear the loss of any single base in Central Asia.
But he added today that the bases have played a key role in U.S. anti-terror operations in Afghanistan, as well as aiding in aid efforts and the fight against drug trafficking:
"Clearly, these bases, and the cooperative arrangements we have, have been enormously helpful with respect to our efforts in Afghanistan, and to NATO's efforts in Afghanistan, and to the humanitarian efforts that have been under way in Afghanistan," Rumsfeld said.
Rumsfeld is expected in Tajikistan later today.
His three-day trip to Central Asia and the Middle East does n-o-t include a stop in Uzbekistan. The Khanabad air base there is home to 800 American troops.
Tashkent was considered a key strategic partner of the U.S. in recent years, but ties have cooled since the Uzbek government crackdown against peaceful protesters in Andijon in May.
Uzbekistan imposed restrictions on U.S. forces at Khanabad following U.S. criticism of the Andijon events.
(Radio Azattyk's Aidanbek Tashkenbaev in Bishkek contributed to this report.)