U.K.: British Police Arrest Four Suspects In London Bombings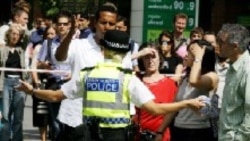 Shepherds Bush following the 21 July attempted bombings British police investigating the failed bomb attacks in London of 21 July arrested four men at two different addresses in England's second-largest city of Birmingham today. A police spokesman said that one of the four had been shot with a Taser stun gun and that a suspicious package had been found. There were unconfirmed reports that one of those detained could have been involved in last week's bomb attacks.
Prague, 27 July 2005 (RFE/RL) -- Off the record, security sources are describing the Birmingham raids as a major breakthrough in the hunt for the London bombers.
The police struck in the early hours of the morning, bursting in on two houses in the city, located northwest of London. A spokesman for the police confirmed that one suspect had been shot with a Taser gun, a nonlethal weapon that transmits an electric charge and causes temporary paralysis.
Police official Stuart Hyde, who took part in the operation, declined to say whether the first of the men detained was one of the suicide bombers being hunted by the police.
"We have effected a warrant here and arrested one man who is now en route to central London," Hyde said. "We have undertaken a further warrant at another address -- three people have been arrested there, all under the Terrorism Act."
But that official tone of caution could not conceal the possibility that they might have caught one of the suspected bombers. He has been taken to London's Paddington Green police station, where all key terror suspects are held.
Police are concerned that the bombers might try to strike again to expunge the shame they could feel at the failure of their mission last week, and they might still have some explosives with them.
In a separate development, police late yesterday evening arrested two men on a train bound for London's King's Cross railway station.
The raids were part of a massive manhunt that has been under way in Britain since four -- or perhaps five -- suicide bombers failed to trigger their charges on the London transport system on 21 July. Those attacks came precisely two weeks after the suicide bombings of 7 July killed more than 50 people in London and maimed hundreds more.
The failed attacks have left what security experts are calling an Eldorado of forensic evidence, including closed-circuit television pictures of the men responsible. Two of them have been named: Yasin Hassan Omar, a 24-year-old Somali who came to Britain in 1992 and was granted indefinite permission to stay in 2000; and Muktar Said Ibrahim, a 27-year-old naturalized British citizen who arrived from Eritrea in 1992.
The capture of one of the bombers could transform the investigation. Rob Watson is a security-affairs correspondent for the BBC.
"Potentially, it could be the breakthrough they've been waiting for," Watson said. "You have to remember there has been a massive manhunt under way since last Thursday [21 July] when the bombs failed to go off. It is firmly believed that all four of the suspects are connected. At least two of them were living together in one apartment in north London, so the belief is that if you can catch one of them, that might give you an extremely good idea of where the other three are and possibly the names of anybody else who might have been involved in this plot."
But the police fear they might be racing against time. Their concern is that the bombers might try to strike again to expunge the shame they could feel at the failure of their mission last week, and they might still have some explosives with them.
Until the Birmingham raids, the investigation had concentrated on two apartments in the New Southgate area of north London and a number of lock-up garages nearby. One of the apartments -- the home of the Somali-born Omar -- had reportedly been turned into a miniature explosives factory.
Large quantities of bomb-making ingredients are said to have been found in the garages. The police have said they also found what they believe is the escape vehicle used by one of the bombers -- a white Volkswagen Golf.