Bosnia-Herzegovina: Moving Beyond Dayton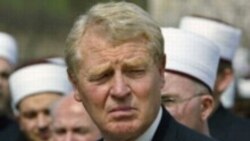 High Representative Paddy Ashdown Sadic Ahmetvic is hoping to work himself right out of a job. The Srebrenica native is just one of 10 Muslims serving in the 82-member Republika Srpska parliament, an institution he hopes will someday cease to exist. "I am ready for a political fight to dismantle the Republika Srpska," Ahmetvic, 36, said in a recent interview in a cafe on the outskirts of Sarajevo. "The Republika Srpska only exists due to Radovan Karadzic's policy of genocide. It never existed before."
Ahmetvic's hostility to the Bosnian Serb Republic is rooted in experience -- he is one of a handful of males who managed to escape the July 1995 Srebrenica massacre in which Serb forces led by General Ratko Mladic executed as many as 8,000 Muslim men and boys. Ahmetvic was working in a Srebrenica hospital when Mladic's forces launched their final assault on the city. After tending to the last wounded on 11 July, Ahmetvic made a run for it by trekking through the surrounding mountains, arriving in Zepa, just as that city too fell to Serb forces. "I thought it was the end," he said. "I couldn't walk, I couldn't talk, I couldn't make any decisions." He then learned that a United Nations helicopter was flying the wounded to Sarajevo. "I wanted to be wounded," Ahmetvic said. "So I shot myself in the leg, put a bandage on the wound, and flew to Sarajevo."
In September 1995, Ahmetvic was united with his wife and infant son in Tuzla. And after the war ended, the family returned to Srebrenica. "This is how I am getting revenge for what they did," Ahmetvic said of his decision to return to Srebrenica. "This is for all the people who wanted me dead," he added.
As one senior international official in Sarajevo, put it, the "push of Dayton will be replaced by the pull of Brussels."
As Bosnia-Herzegovina marked the 10th anniversary of the Srebrenica massacre earlier this month, stories like Ahmetvic's were featured prominently in media reports recalling the massacre. And as the country prepares to commemorate a decade of peace following the 1995 Dayton peace agreement in November, his notion that the Republika Srpska should be abolished is gaining increasing currency among Muslims.
While Dayton ended the war in Bosnia by dividing the country into a Muslim-Croat Federation and a Serb Republic, many Muslims say the creation of the Republika Srpska rewarded genocide and ethnic cleansing. "It would have been pretty nasty if the allies gave part of Germany back to the Nazis," Ahmetvic said.
More Central Power
Additionally, with two "entities" and a weak central government, the accords created a cumbersome administrative and bureaucratic labyrinth with five presidents, three prime ministers, three parliaments, 140 ministers, two separate police forces and -- until recently -- two armies.
But the road beyond Dayton, many analysts say, is fraught with peril and could just as easily lead in directions other than the abolition of the entities and the establishment of a unitary, democratic, and multinational state. Nationalists would likely dominate any constitutional convention, which could lead to either the strengthening of the power of Bosnia's entities, or even the eventual partitioning of the country.
Since taking office in May 2002, High Representative Paddy Ashdown has been pursuing a strategy of peeling away the powers of the entities, both the Muslim-Croat Federation and the Republika Srpska, and transferring them to the central government. A single prosecutorial service, a State Organized Crime Chamber, a State Information and Protection Agency, an Indirect Tax Authority, and a state intelligence agency have all been set up. On 18 July, the country's Defense Reform Commission signed legislation to create a unified army under a single defense minister.
The moves are all part of an effort by the Office of the High Representative (OHR) to prepare Bosnia to join NATO's Partnership for Peace (PfP) program, and to sign a Stabilization and Association Agreement (SAA) with the European Union. In a speech to the Bosnian parliament on 19 July, Ashdown said he hoped to see the country complete the necessary steps to sign the SAA by November -- in time for the 10th anniversary of the Dayton Peace Accords -- and for the OHR to be replaced by an EU-led mission by October 2006. "Once that threshold is crossed, then the scaffolding of the European Union starts to replace the scaffolding of Dayton, as Bosnia-Herzegovina moves into the next phase of its journey to statehood," Ashdown said.
EU Leverage
As one senior international official in Sarajevo, put it, the "push of Dayton will be replaced by the pull of Brussels." But while such a development would give Bosnia a chance for a better future, it is running into strong opposition in the Republika Srpska, where officials stand to lose a lot of power and influence. Ashdown's plans for police reform, which would transfer law-enforcement powers from the entities to the central government, are sparking the strongest opposition, with Bosnian Serb leaders consistently blocking the proposed overhaul. When the Serbian Democratic Party (SDS) and the Independent Social Democrats (SNSD) failed to show up for talks in Sarajevo on 26 July to discuss the future of police reform, Ashdown accused them of a "lack of seriousness" and said they were jeopardizing Bosnia's chances to integrate with Europe. Reforming Bosnia's police force is one of the EU's conditions for signing an SAA. "Those who decide that playing small opposition politics comes before their country's EU future cannot be a serious opposition party," Ashdown said in a
press release
posted on the OHR website.
Speaking to the Republika Srpska parliament on 21 April, Ashdown tried to calm fears that police reform was an effort to dismantle the entity. "There is no hidden agenda in police reform. There is no plot to open up, by clandestine means, the question of constitutional reform. This is not an attack on [the] Republika Srpska. This is not an attempt to abolish the entities," Ashdown said.
Nevertheless, analysts and top international officials in Bosnia have pointed out that even if the entities are not formally dismantled, police reform would accelerate the process of gutting, emasculating, and leaving them as essentially empty shells -- with real political power resting in the central government. And with 79 percent of the Republika Srpska's residents favoring eventual membership in the EU, and with 51 percent favoring police reform if it will take Bosnia into Europe, Ashdown appears to have public opinion on his side on the issue.
Maybe Sadic Ahmetvic will find himself happily out of a job after all.
Related:

Marking The 10th Anniversary Of The Srebrenica Massacre

Child Of Srebrenica Returns Home For Anniversary Of Massacre

Karadzic And Mladic Are 'Everywhere But In The Hague'