Italian Court Approves U.K. Terror-Suspect Extradition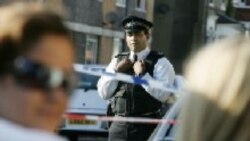 London after the "incidents" of 21 July 17 August 2005 -- An Italian court has approved the extradition of Hamdi Issac, a suspect sought by Britain for his alleged role in the failed 21 July bombings on London's transport system.
An Italian judge said Issac would be extradited to Britain within 35 days, allowing time for Italian authorities to finish their own investigation.
Paolo Iorio, a lawyer for the British government, said the court had accepted the UK request.
"These 35 days are just a deadline fixed to practically set the transfer," Iorio said. "The court accepted our request according to the European warrant for extraditions."
Issac, a British citizen also known as Osman Hussain, is being held in Rome on international terrorism charges following his arrest in the Italian capital on 29 July.
He is wanted in connection with
four attempted bomb attacks
that targeted London's public transportation system. No one was killed or injured after the bombs failed to detonate, but the attempted bombings unleashed a massive manhunt.
(Reuters)