UN: Women Fill Bulk Of Lowest-Paying Jobs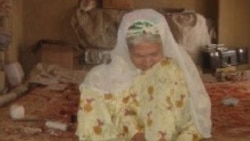 Many women work informal jobs with no security A new UN report confirms what many people already know -- that women fill the bulk of the world's lowest-paying, most insecure jobs. The report by the UN's women's fund, UNIFEM, says the working poor are both men and women, but that "the further down the chain of quality and security, the more women you find." And it says that improving the lives of the world's working women is key to fighting global poverty.
Prague, 31 August 2005 (RFE/RL) -- A Cambodian woman works more than 18 hours a day, but still doesn't earn enough to feed her family.
An Indian woman has to leave her young child with inadequate care while she works in a tobacco field.
These two cases illustrate the findings of the report issued today, "Progress of the World's Women 2005." It says that women, in general, earn less than men, have less access to good jobs, and are more likely to work in the "informal economy" -- in jobs with no security or other benefits.
"Women workers, as a general rule -- not always, but as a general rule -- are more likely to be engaged in informal employment than men are," says Martha Chen, one of the report's authors. "Women are concentrated in the more precarious forms of informal employment. There are some people who are informally employed and who hire others and run fairly successful enterprises -- these are mainly men. There are some people in the informal economy who work under subcontracts for a piece rate, and these are absolutely predominantly women, 80 to 90 percent are women. That's the lowest-paid, most precarious form of employment of all."
Worldwide, informal employment is huge, and increasing, thanks to globalization. In rich countries, it makes up about one-quarter of total jobs -- typically self-employment, part-time, and temporary work. But in developing countries, informal employment accounts for more than half the jobs; even more if agriculture is included.
"It's not that people need work -- the majority [of these 550 million] have work of some kind. It's just that the work is not decent enough to allow them to work their way out of poverty." - UN's Martha Chen
The report says these jobs often have such meager benefits that workers are forced to overwork to make ends meet. It finds that some 550 million people are unable to earn more than $1 a day. Of those, Chen estimates between half and 60 percent are women, often working in unhealthy or unsafe conditions.
"They are in the informal economy, and there are risks that they face being in informal employment that really have to be addressed if we're going to reduce poverty," Chen says. "That's the main concern. It's not that people need work -- the majority [of these 550 million] have work of some kind. It's just that the work is not decent enough to allow them to work their way out of poverty."
The report's findings are unlikely to be much of a surprise. It's often women who are visible in low-paying textile jobs, doing back-breaking work in the fields, or scavenging garbage heaps for items to sell. But the authors want to highlight their plight -- and spur action to improve it.
"The core priority is that we need to increase the visibility of the workers in national labor force statistics and national accounts, and they need to be organized," Chen says. "Without organization, the workers cannot make their voice heard."
The report calls for better legal protection of the working poor and for improved terms of trade to enable them to compete in the global marketplace.
See also:

"Slavery Survives, Despite Universal Abolition"

"Sex Traffickers Prey On Eastern Europeans"