Medical Records Inconclusive On Arafat's Death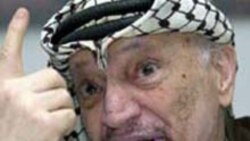 Yasser Arafat 8 September 2005 (RFE/RL) -- U.S. and Israeli media say French medical records show doctors could not determine the underlying cause of the death of Palestinian leader Yasser Arafat last year in a Paris hospital.
"The New York Times" and Israel's "Ha'aretz" newspaper today said the records showed
the 75-year-old Arafat
died of a stroke that resulted from bleeding caused by an unknown ailment.
But "The New York Times" said the medical records show it is highly unlikely that poisoning or AIDS caused Arafat's death.
French doctors have refused to publish Arafat's medical records, citing strict privacy laws. That has led to a number of allegations, including that Arafat was poisoned by Israel.
Today's media reports were the first based on the actual medical records.
Two Israeli reporters obtained the records from a senior Palestinian official and provided them to the U.S. newspaper, which said it also conducted its own investigation.
(Reuters/AP/AFP)