Bombings Continue In Iraq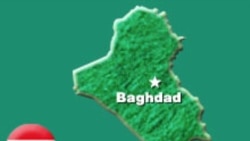 25 September 2005 -- Police in Iraq say a suicide bomber on a motorbike killed himself and six other people when he detonated his bomb today in the mainly Shi'ite city of Musayyib.
Nineteen people were wounded in the blast. The killings followed a day of violence across Iraq. Earlier today a suicide car bomber attacked an elite Iraqi police unit in Baghdad, killing at least seven commandoes and two civilians. Al-Qaeda claimed responsibility for that.
South of the capital, in Al-Hillah, a bomber on a bicycle blew himself up, killing at least one other person. And in western Baghdad, gunmen held up an armored Finance Ministry convoy, killing two guards and wounding nine before making off with $850,000 in cash.
(international agencies)
For all the news about Iraq, see RFE/RL's special webpage "The New Iraq." See Also: "Iraq Votes: Constitution Referendum"