Experts Recover Remains Of Srebrenica Victims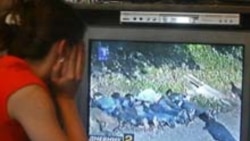 A woman watches videotaped footage of Srebrenica victims 4 October 2005 -- Forensic experts have recovered the remains of 213 people believed to be victims of the 1995 Srebrenica massacre, from a mass grave in northeastern Bosnia.
Murat Hurtic, the head of the forensic team, said it was the fifth mass grave experts have found in the village of Liplje.
Hurtic said the bodies were originally buried elsewhere but later moved to the Liplje location to cover up the crime.
About 1,000 victims were found in the four mass graves previously discovered in the village.
Serb forces killed as many as 8,000 Muslim men and boys when in 1995 they overran the eastern Bosnian enclave of Srebrebica. It was the worst massacre of civilians in Europe since World War II.
(AP)
See also:

More Srebrenica Victims Recovered From Grave In BosniaFor more information about Bosnia-Herzegovina, see RFE/RL's webpage "News and Features on Bosnia-Herzegovina"