U.S. Sees No Improvement In China's Human Rights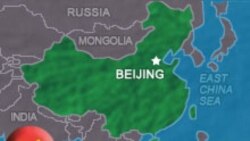 12 October 2005 -- A U.S. commission says there has been "no improvement" in human rights in China over the past year, with the Communist authorities tightening controls on political, religious, and media expression.
The report by the Congressional-Executive Commission on China noted that the Chinese government pursued some judicial and criminal justice reforms that have the potential to improve human rights. But it said these "positive steps" were clouded by repressions and policies designed to protect Communist Party rule and tighten control over society.
The panel highlighted arbitrary detentions of Chinese citizens, religious persecution, and restrictions on labor and
media.
The commission was established by the U.S. Congress in 2000 and is composed of U.S. lawmakers and officials appointed by President George W. Bush.
(AFP/Reuters)
Related Stories:

UN Human Rights Commissioner Urges Beijing To Improve Rights Record