U.S., Iraqi Forces Launch Offensive In Al-Ramadi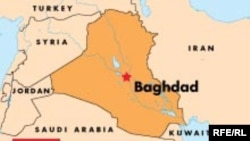 (RFE/RL) 23 November 2005 - The U.S. military says American and Iraqi soldiers have begun a fresh military operation south of the Iraqi city of Al-Ramadi, west of Baghdad, in another effort to uproot the insurgency.
Operation Asad, or Lions, is the third in the predominately Sunni city since 16 November. The U.S. military says the offensives have resulted in 32 alleged insurgents killed.
In other violence, reports say gunmen broke into the home of the brother of Sunni parliamentary candidate and killed him, his three sons, and his son-in-law on the outskirts of Baghdad overnight.
According to the victim's brother and an official at the Interior Ministry, the attackers were wearing Iraqi Army uniforms.
The victim, Khadim Sarhid al-Hemaiyem, was the leader of the Sunni Batta tribe, which is one of the largest Sunni tribes in the area north of Baghdad. His murder follows a push by U.S. and Iraqi officials to encourage Sunni Muslim participation in next month's vote.
(dpa/AP)